When you've decided to blog on a regular basis, it's tempting to publish a post as soon as you finish writing one. This, however, is not the best long-term strategy.
In this post, we'll go over the "why" of that. However, we will also discuss a few factors that influence blogging schedules, such as the frequency of posts you should commit to, the best tools to use for committing to a blogging schedule, and a few ways to mitigate potential problems.
Let's get right to it.
Why a Blogging Schedule Is Important?
Though it may be tempting to "wing it" when it comes to publishing blog posts, having a blogging schedule can really help you stick to your commitment. Otherwise, you'll regard your blog as a bonus or a non-essential activity. A blog schedule also allows you to plan out your content ahead of time, allowing you to prepare timely or seasonal posts.
How Frequently Should I Publish Blog Posts?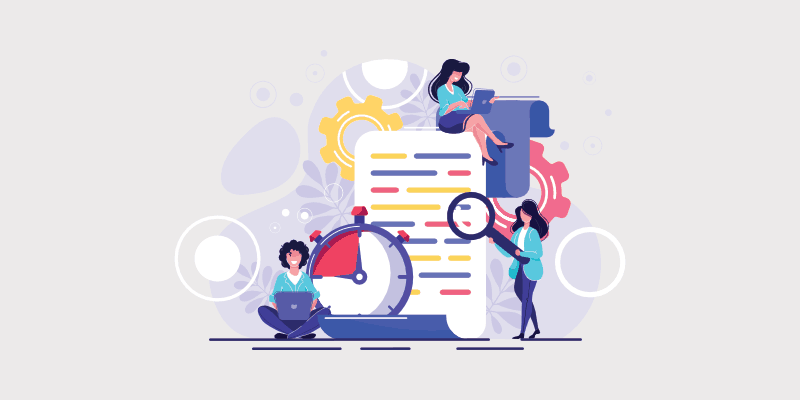 The frequency with which you post will be determined by your industry and the type of content you wish to share. For example, if you run a news-related blog, daily or even multiple posts per day are expected. However, if you prefer in-depth researched or reported pieces, once a week or even once every other week may suffice.
Looking at what your competitors are doing is a good way to figure out the best blogging schedule for your website. How frequently do they post? What kinds of posts do they make? Often, a cursory glance will provide you with enough information to devise a blogging schedule that works for you.
In terms of official recommendations, HubSpot recommends that small blogs post 3-4 times per week to increase organic traffic and 1-2 times per week to build brand awareness. Of course, your mileage may vary.
There is one more factor to consider when deciding on your post frequency that has nothing to do with what everyone else is doing. It is more about what you can personally handle. Or, what your team is capable of. If you don't have enough staff to handle the addition of more than one blog post per week, you should either lower your expectations or hire a writer to help you.
Once you've decided on a post frequency, decide which days of the week you want your posts to go live. Of course, you can change this over time, especially if traffic data indicates that a change would be beneficial. But first, decide on the day(s) and time(s) you want to publish.
5+ Tools for a Consistent Blogging Schedule
While you can easily schedule blog posts in WordPress, you may want more control over creating a publishing blogging schedule. These features can be provided by a variety of tools and plugins. The majority of what follows are plugin recommendations for WordPress that add tools for planning, coordinating, and blogging schedules.
1. Strive Content Calendar
Strive is first on our list. This all-in-one editorial manager includes everything you need to keep your blog running smoothly. The first is a useful content calendar, which allows you to plan out your post schedule. The calendar includes drag-and-drop post scheduling (or rescheduling) as well as a one-click draught inserter for quick calendar additions. There are also colour-coded post statuses so you can see where each of your posts is in the writing process at a glance.
Strive also supports post checklists to ensure that all of your content is complete, post revision planning to make refreshing old posts a regular part of your schedule, and a Pipeline feature to track all of your current posts in progress (from idea to publishing).
2. Editorial Calendar
Though it's simple to schedule posts for publication within WordPress, it's not always possible to see everything you've got planned for the future. This is where the Editorial Calendar plugin comes in. It provides a convenient calendar view for viewing all of your scheduled posts. Within this view, you can drag and drop posts, edit them directly within the calendar, and click through to make additional changes.
This makes it incredibly simple to change post dates, titles, and add posts to the blogging schedule, among other things. It also shows you where your posts are in the publication process (draft, pending, etc).
3. PublishPress
The PublishPress plugin is another option for configuring your blogging schedule. This plugin allows you to create an editorial calendar, set custom post statuses, send out notifications about content updates, and much more. If you intend to feature more than one author on your blog, this is an excellent option. It simplifies the collaborative process and allows you to assign edits or updates to posts by adding them as post statuses rather than sending out multiple emails.
It's a popular format for online publications.
4. WP Scheduled Posts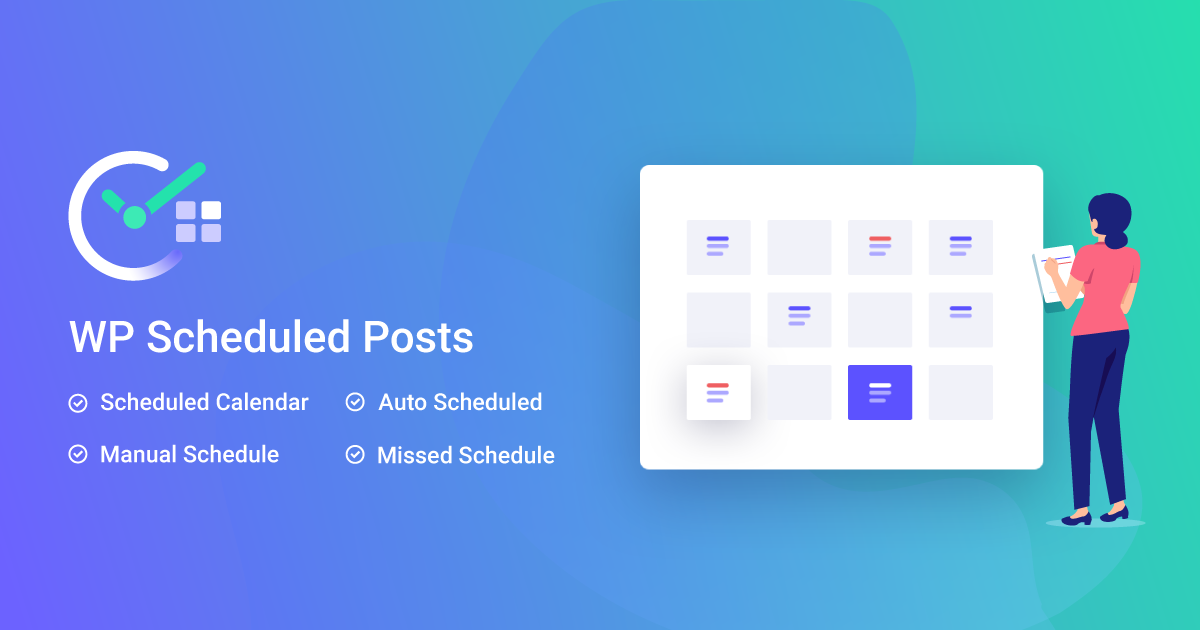 WP Scheduled Posts is yet another tool for making it easier to manage your blogging schedule. This plugin includes a number of tools that allow you to schedule blog posts for publication in advance, giving you more freedom from your desk. One of its main features is a Schedule Calendar, which allows you to manage all of your content visually.
You can add posts to the queue and schedule them to publish on specific days using this calendar view. This plugin also includes a dashboard widget for easier post scheduling from the standard WordPress admin view. You can reorganise your blog schedule by dragging and dropping posts around on the calendar. This method can even be used to manage multiple authors.
5. CoSchedule
The next marketing tool is CoSchedule, which allows you to manage multiple aspects of blog post-publication from your WordPress dashboard. To begin, it includes a marketing calendar that allows you to see all of your projects at once, including the workflow for each post. This includes all related social media posts, email blasts, events, and other communications.
It also includes a content organiser to help you manage all aspects of writing posts. Custom statuses can be assigned to your post workflow, which can then be viewed using an integrated Kanban board. It also has a social organiser where you can create complete campaigns for all of your social profiles. This way, social posts can be sent out as soon as your new blog posts are published. It also has a "best time" scheduling feature and a "ReQueue" feature to help with social sharing automation. CoSchedule is a premium plugin, but you can try it out for free for 14 days.
6. Publish to Schedule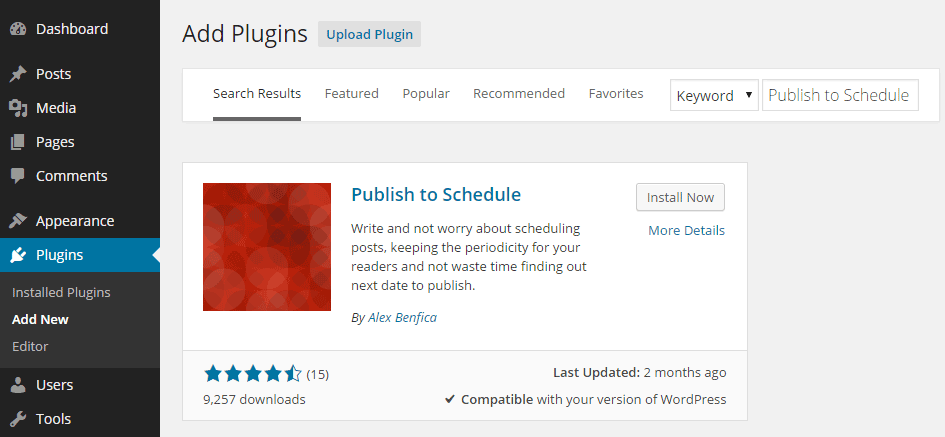 Finally, another WordPress plugin that can make it easier to publish content on your blog is Publish to Schedule. Once installed, you only need to configure it once. Your posts will then be automatically scheduled for publication. When you're finished writing your post, simply click Publish. However, instead of being published immediately, it will be placed in a publication queue.
This queue is determined by the settings you choose when installing the plugin. During the setup process, you must specify the days of the week and times when you want posts to be published. In that regard, it reminds me a lot of the social scheduling tool Buffer: simply set your blogging schedule, add posts to your queue, and walk away.
Wrapping It Up
The truth is that publishing blog posts on a regular basis are beneficial to SEO. It has the potential to increase organic traffic to your website. It is, however, useful for increasing people's awareness of your brand and what you do as a company/influencer. As a result, regardless of how difficult it is to commit to a blogging schedule, the payoff is well worth the effort.
Related Blogs