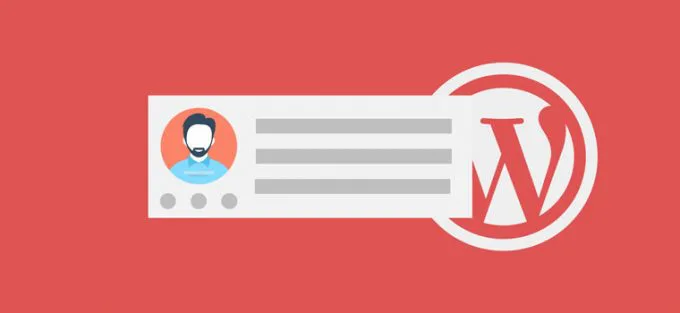 WordPress Author Box plugin is one of the finest WordPress plugins which is used by the majority of website owners. It works as an ID card for your website. After writing so many posts, In this article, I'm going to discuss a list of all WordPress Author Box plugins. People who operate a multi-author blog can also make use of these WordPress Author Box plugins.
By installing these WordPress Author Box plugins, you can share your social media links, write an author bio in the space provided by it. You can also show the picture of the author with the help of the Gravatar form. These WordPress Author Box plugins will provide your readers with your social profiles who then can easily follow you on different social platforms.
Once you install these WordPress Author Box plugins, to add the picture in the author box, you will need to create a Gravatar account. The procedure to add a Gravitar image is listed below:
Create your account on this website.
Login as administrator to your site.
Go to Settings > Discussion and scroll down to the "Avatar" section.
In the Default Avatar, select Gravatar Logo.
Use the same email id of WordPress in your Gravitar account. This will make sure that your right avatar is shown on the website. You can choose an author box plugins from the given list.
Some of the Best WordPress Author Box Plugins are given below:
Simple Author Box Pro Plugin
Fanciest Author Box
Starbox Author Box Plugin
VK Post Author Display Plugin
Author Avatar List Plugin
Simply Guest Author Name Plugin
All the WordPress Author Box plugins mentioned above are completely compatible with the latest version of WordPress. You can select any of these Author Box plugins according to your needs.
Simple Author Box Pro Plugin permits you to design a useful responsive author box at the ending of your posts consisting of your author name, gravatar, and the description needed. With the help of multiple author options, you can add co-authors to the post and even customize your author box very smoothly. You can also enable or disable the visibility of your posts on the desired post types feature. Many more features like author & popular widget, social network support, guest authors, etc. are also available on this WordPress Author Box plugin.
Fanciest Author box WordPress plugin a very famous author box plugin. You can present authors in a very modifiable style which is perfect for guest articles by using social widgets. Authorization of Fanciest Author Box on all of your pages, posts and custom post types is very simple and can be done very easily by you. The author box can also be disabled by you whenever you don't want it or use the widget, shortcode and template tag manually.
Features include:
lazyload
transition ready
random author option for pictures
retina ready
RSS feed author box, etc.
Ultimate Author Box WordPress plugin will help you to represent your post authors, the addition of more tabs with author's posts, and customization of content and social feeds. The WordPress Author Box plugin also offers you an active designing feature inclusive of 19 pre-built utilizable templates. All the main social icons and the author box can be directly accessed by easily choosing a WordPress user role. The plugin does its job appreciably with all the themes and has also got 2 built-in widgets. Additional features of this WordPress Author Box plugin are listed below.
Features include:
Social media feeds
Custom tabs
Author summary Pop – up display
Unlimited colour schemes
Author box post customization
15+ pre-designed templates
Two inbuilt widgets
20+ social media profiles etc.
Starbox author box WordPress plugin is another very useful WordPress Author Box plugin for your website. This plugin allows you to set the author box totally with the default or any custom theme. The reader's social media will also be visible to you and since they are attracted to the content of your post, they can be engaged on social media platforms too. Some other features of the Starbox Author Box plugin are given below.
Features include:
A section showcasing the latest article of a particular author
Paragraphs in your author bio
Links to all the articles etc.
Molongui Authorship WordPress plugin will help you to grant credit to the author of the blog by displaying the Author bio on the same page as the post. It also allows you to upload a profile picture, add social media links, describe the user's job position and company. More features of this WordPress Author Box plugin are given below:
Features include:
Author box.
Guest author.
Display settings
Author info.
Related posts
Social networks etc.
VK Post Author Display Plugin enables you to show the article author detail box at the bottom of the contents.
Author Avatar List WordPress plugin will let you add single avatars for blog users, display lists of user avatars, and attach any email id to your post or page. You can easily adjust the size of the user avatar, change the sort order or show it in random order. An avatar list can also be simply be added to your website's sidebar by attaching a widget or into the post or a page just by a shortcode. You can also hide users, display distinct user groups and limit the number of users to be displayed. Some other features of this WordPress Author Box plugin are given below:
Features include:
Displaying custom titles.
Changing the sort order of users.
Limiting the number of avatars per page.
Grouping users by their blogs.
Showing users in random order etc.
Simply Guest Author Name WordPress plugin will allow you to make a post and override the name of the author with one or more names or texts. It also enables you to instantly create a link for the author name field, attach an email id and information for the Gravatar.
Wrapping It Up
The WordPress Author Box plugins which I've mentioned above are some of the best and most useful plugins available. The features of these plugins are known to be very handy and will definitely improve the standard of your WordPress website. Therefore, I would strongly recommend you to use these WordPress author box plugins for your website and get ready to spark change in your blogs!