Are you looking for bug tracking software for your business? You've come to the correct location!
In the recent decade, the usage of software or web-based services in company operations has grown in popularity. This has also led to an increase in the number of defects and problems in the programme.
In the context of software, a bug is an error, flaw, or fault in a programme that causes it to deliver inaccurate or invalid results. It essentially inhibits your programme from operating properly.
A bug in the software, like creepy crawlies in your garden, is very unwanted. It may cost you time, effort, money, and reputation, thus discovering them early in the development process is critical.
This is simple to accomplish with the use of bug tracking tools. They assist you in detecting faults and resolving them as soon as feasible.
That is why we have created a list of some of the top bug tracking software available on the market in this article! But, before we get there, let's define what bug tracking software is.
What is a Bug Tracking Software?
First and foremost, let us attempt to define bug tracking. It is the process of monitoring and collecting mistakes, faults, and issues discovered during software testing, analysing their effect, finding their causes, and correcting them.
A bug tracking software is a software that monitors, tracks, records, reports, and fixes defects encountered by a user throughout the development of a piece of software or a project.
This bug tracking software enables teams to isolate defects from routine work, prioritise them correctly, and then address them. They aid in the centralisation and standardisation of problem management methods.
A bug tracking software often includes a dashboard that sends email alerts whenever a problem is created. It prioritises them based on the severity of the defects and then sends them to testers to be fixed.
Best Bug Tracking Softwares That You Must Try
Bug Tracking Software #1. BugHerd
To begin, we have BugHerd, a simple and visually appealing bug tracking programme that allows you to submit issues, handle conversations, and record feedback all in one spot.
BugHerd lets you upload bugs or issues to a Kanban-style task board where your team may discuss, manage, and assign tasks. The input is placed on the Kanban board automatically. It also aids in the capturing of screenshots, video, and information such as screen resolution, browser, operating system, CSS selector data, and more.
BugHerd is mobile-friendly and connects with a variety of platforms, including WordPress, Slack, GitHub, and others. It is well-known for its aesthetic simplicity and intuitiveness, and it is particularly popular among non-technical users.
Pricing: BugHerd costs $39/month
Bug Tracking Software #2. Bugzilla
Bugzilla, which was created by Mozilla, is an open-source, web-based bug tracking programme that allows you to keep track of problems and issues with your product.
Bugzilla is simple in design, but it has a comprehensive search mechanism that allows you to do any form of search, such as time-based or priority-based searches. It also features a robust reporting system that creates scheduled reports and graphics on an automatic basis.
You may track and determine the time necessary to solve an issue using Bugzilla's time-tracking tool, and you can even set a deadline for it to be fixed. Bugzilla also provides security with its built-in, product-based authentication and security mechanism.
Pricing: Bugzilla is free to use
Bug Tracking Software #3. Backlog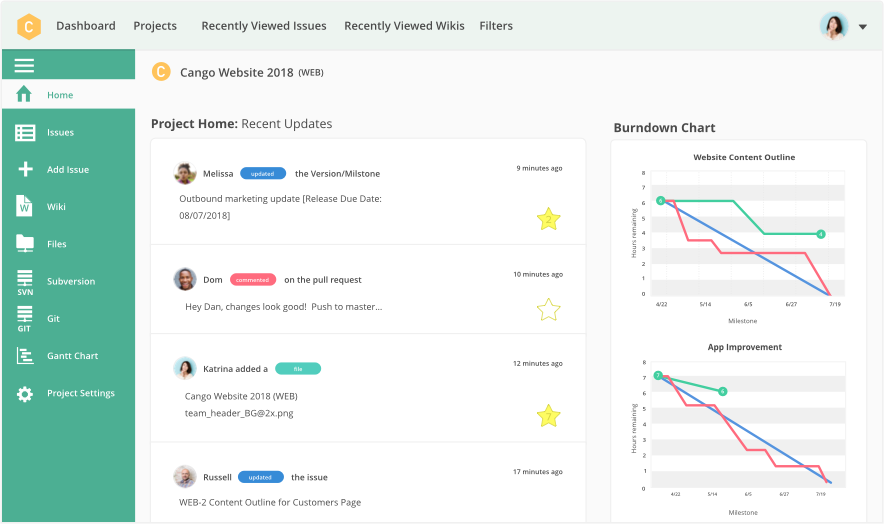 Do you need bug tracking software as a software developer?
Then Backlog is a great choice for you. It is an all-in-one project management software package that includes bug and problem tracking tools.
Backlog enables you to collect and document defects or issues, classify them, assign them to a team, track their modifications, and eventually communicate resolutions within the system. It also aids in the management of IT projects by providing capabilities like sub-tasking, Git and SVN repositories, Kanban boards, Gantt charts, Wikis, IP access control, and more.
Backlog, although being geared for software professionals, offers a relatively intuitive user interface that anybody can understand. It is offered as a self-hosted solution as well as a SaaS option for teams of various sizes. And there's more. It has pre-built connections with Jira, Google Sheets, Typetalk, Cacoo, Redmine, and more applications.
Pricing:
Free version available
Paid plans start at $35/month
Bug Tracking Software #4. Mantis Bug Tracker
If you're searching for simplicity and convenience of use, go no further than Mantis Bug Tracker. It is an open-source, web-based bug tracking programme that reports and views defects using a dashboard-based interface.
Mantis Bug Tracker submits, updates, and edits bug reports using its interactive tracking database. It allows you to provide information such as a title, description, priority, severity, and other details. It also allows you to attach photos and other assets to bug reports.
This programme has a live timeline panel that displays the most current updates and activities as they occur. It provides email alerts to keep users up to date on new issue logs, resolutions, and progress. And there's more. Mantis BT is a PHP-based application that is accessible in 49 different languages.
Pricing:
Free plan available
Price starts from $4.95/month
Bug Tracking Software #5. Zoho Bug Tracker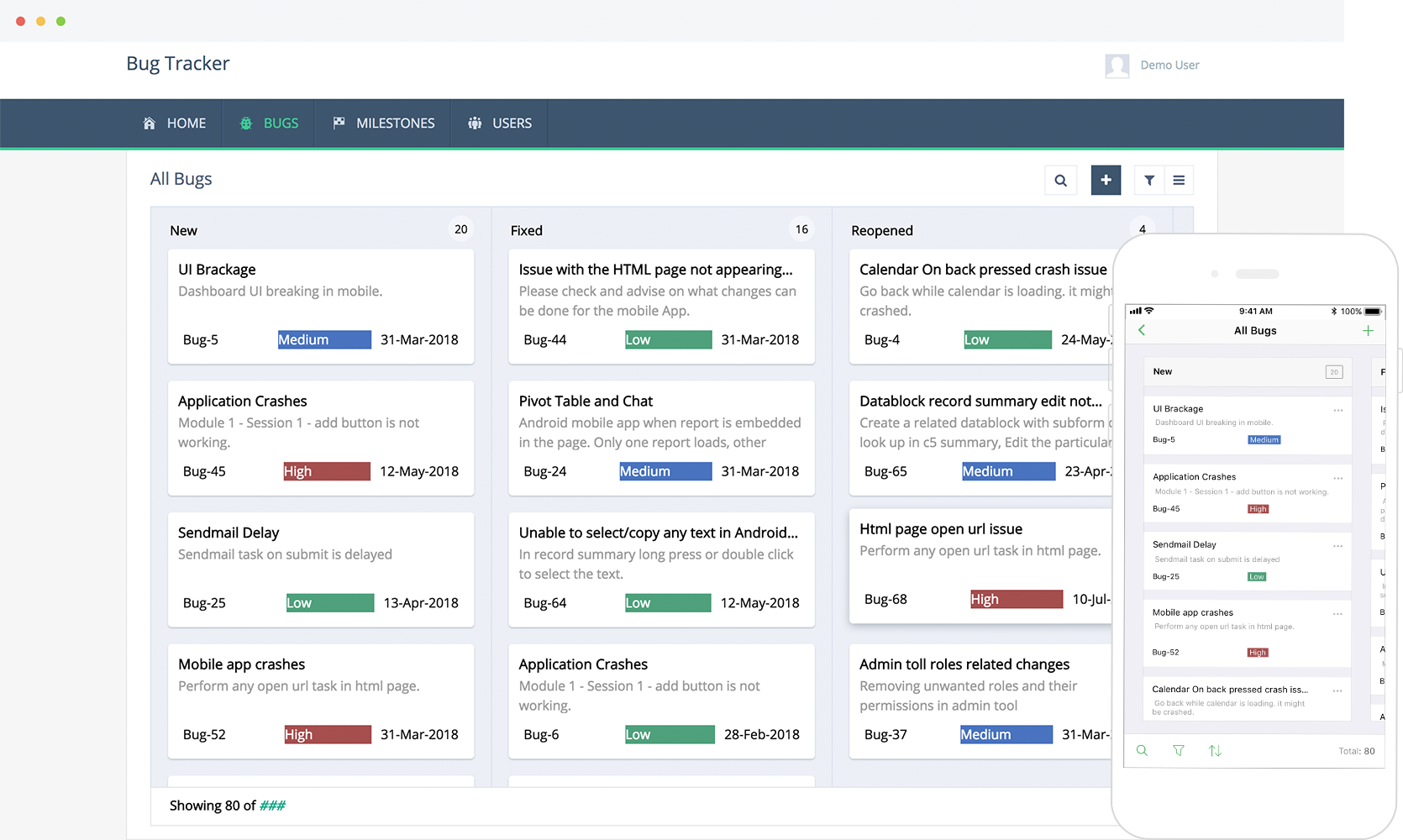 Zoho Bug Tracker is an online bug tracking software that allows you to record and monitor issues based on severity, due date, and custom-defined statuses and parameters. It is easy to use, quick, and scalable.
You may use Zoho Bug Tracker to trace the life cycle of bugs from start to finish. It can track issues, make announcements, generate reminders and notifications, and determine priorities automatically.
The reporting tools in Zoho allow you to keep track of all the defects that have been reported and fixed. It also sends email alerts to notify users of the existence of issues and their fixes.
Zoho interacts with a variety of programmes, including Dropbox, Google Drive, JIRA, GitHub, Crashlytics, Bitbucket, and others.
Pricing:
Offers a freemium plan for up to 3 users for 2 projects
Zoho Bug Tracker costs from about $4/user/month
Bug Tracking Software #6. Marker.io
Marker.io is a web-based visual bug tracking software designed for software development teams and agencies. It enables you to collect suggestions, problems, and issues from any website.
Rather than offering project and task management tools, Marker.io allows you to operate within your existing task and project management system.
You may capture screenshots using Marker.io, and it will automatically preserve information like browser version, operating system, and screen size and transform them into a strong bug report. And there's more. It integrates with Trello, Slack, Asana, Teamwork, Jira, GitHub, and other tools.
Pricing: Marker.io costs $39/month for 5 users with unlimited projects and guests.
Bug Tracking Software #7. Sifter
Sifter is a bug tracking software that is cloud-based and intends to assist non-technologists by delivering a simple and user-friendly interface. So, if you want to incorporate non-technical individuals in issue tracking, this is a great alternative.
Sifter allows you to report issues, sort them based on different milestones, track defects, and notify your whole team of their progress. You may prioritise problems by assigning them different levels of relevance, such as low, trivial, normal, and high.
You may also use Sifter's text search to find a problem in a ticket's title, description, and comments. It interfaces with a variety of third-party apps and allows for an infinite number of users in each account.
Pricing: Sifter pricing starts at $29.00 per user per month.
Wrapping It Up
The quality of your product and services is strongly reliant on your company's ability to detect and correct problems before they become a danger and cause chaos.
Needless to say, proper bug tracking software will assist you in tracking down and resolving such flaws so that you can provide fantastic and error-free services.
We hope you discover bug tracking software from the list we put up for you. Before selecting one for your firm, keep in mind aspects such as the size of your staff, your budget, and your needs.
Now get out there and start looking for bugs!
Latest Blogs