Interested in automating your marketing efforts? These marketing automation tools can be useful!
We are all aware of the critical significance that marketing plays in your company's success. Sure, a good product generates a lot of word of mouth and press attention, but in order for people to know about your product or service, you must be skilled in marketing.
However, with the rapid rise of social media, as a result of falling smartphone and internet plan rates, there is a lot of noise out there. To breakthrough, you must have the necessary tools to do all of the hard lifting while you concentrate on your creativity.
According to Marketing Automation Insider, marketing automation technologies have been in use since 1992, with Unica being the first.
According to them, the marketing automation sector is currently worth $6.1 billion, with Salesforce, IBM, Adobe, and Microsoft, among others, acquiring 75% of the market! To suggest that firms are putting a lot of money into marketing automation solutions is an understatement.
The reason for this tremendous rise is simple: marketing automation solutions save marketers a tonne of time by doing repetitive chores, giving them more free time to accomplish things that are important to their brand.
Best Marketing Automation Tools
As a result, we've produced a list of some of the top marketing automation tools available, which will assist you with all of those tedious, repetitive duties and make marketing less of a hassle!
Let's go through each one of the marketing automation tools in-depth and see which one is the greatest fit for you.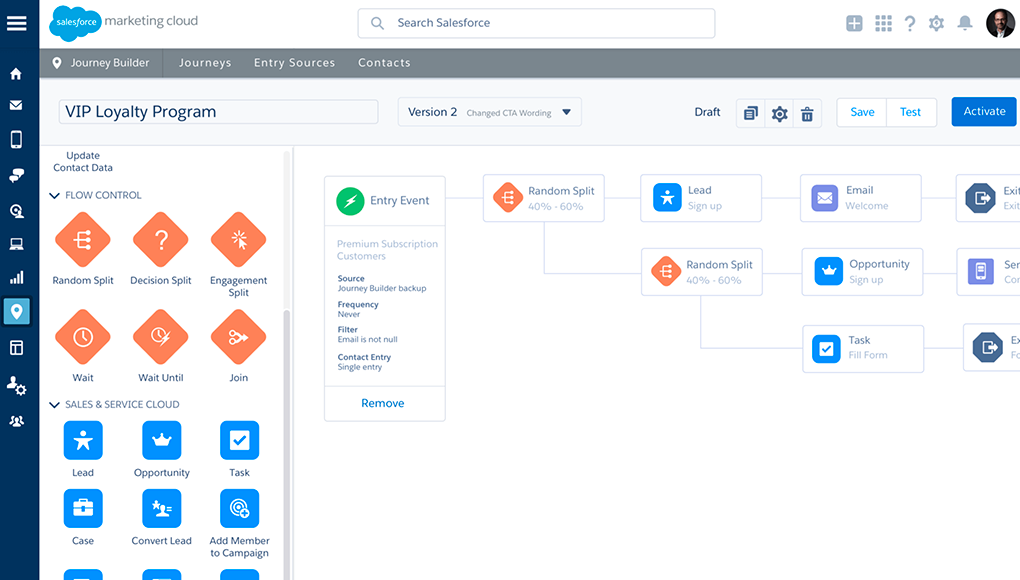 Salesforce Marketing Cloud offers a robust, cloud-based solution to marketing automation. It is an all-in-one platform for all your marketing efforts.
This marketing automation platform enables you to develop and manage any type of email campaign, communicate with consumers via SMS and push notifications, link your social media channels, manage all of your ad campaigns, and generate interactive content that successfully engages customers.
Salesforce Marketing Cloud has a multitude of tools that readily expand with enterprises of all sizes.
Marketing Automation Tool #2. iContact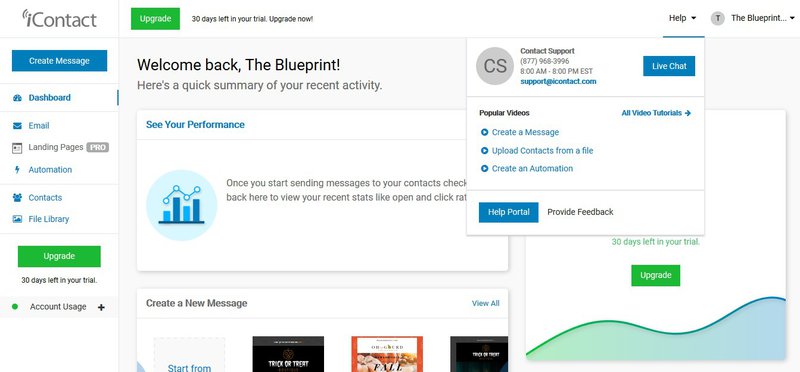 iContact touts itself as the email marketing platform for everyone. iContact makes it simple for anybody to build fantastic email campaigns and track their effectiveness.
iContact recognises the value of social media marketing and allows you to develop sign-up forms and measure client involvement. It offers a 30-day free trial, making it more appealing to test, although it is restricted to 100 contacts and 400 messages.
Although, with customers such as NASA, it undoubtedly merits a position on the list of the finest marketing automation tools.
Marketing Automation Tool #3. OneSpot
OneSpot is a content marketing platform that utilises machine learning to promote your brand and content for maximum interaction and to keep you at the top of the customer's mind.
OneSpot's machine learning system recommends content to users based on their surfing history and interests. OneSpot follows a consumer across the web and pushes relevant information via social media, email, online advertisements, and other channels. It is trusted by major corporations such as IBM, L'Oreal, and Nestle, to mention a few.
Marketing Automation Tool #4. Hubspot
If you or your team uses inbound marketing to create leads, HubSpot is for you. HubSpot is an inbound marketing platform that now includes a sales and CRM platform.
With over 34,000 clients globally, it is a well-known and frequently utilized marketing automation solution. It gives marketers and salespeople everything they need to entice consumers, connect with them, provide customer service, produce appealing content, target the correct audience, and track campaign success.
Marketing Automation Tool #5. Customer.io
Customer.io is an excellent email marketing automation solution that enables organizations to send customized emails, push notifications, and SMS to reduce churn, build deeper connections, and promote subscriptions.
You may link Client.io with your website or mobile app to put everything your company knows about a customer into one place:
Everything they've done
Every page they've looked at
Their order or subscription history
Anything else you wish to communicate using our simple API is welcome. Then, depending on what you know and what individuals do, you may send customized messages. A/B testing, conversion monitoring, customer profiles, and much more are also available.
Marketing Automation Tool #6. Buffer
For new-age firms, having a social media presence and showing up every day with engaging material is a requirement. Buffer intends to automate the tedious and time-consuming operation of signing in to numerous social networking networks and publishing material on a daily or even multiple daily basis!
Buffer, which has over 4 million members, is a simple method to plan posts, analyse the performance of your content, and manage all of your accounts in one location. Buffer's browser plugin, which interacts with WordPress, Chrome, and RSS readers, is a useful addition that lets you store and schedule information while you're on the road.
Marketing Automation Tool #7. Pardot
According to Forrester Research, 48% of marketers are finding it difficult to customise client interactions. Pardot wants to assist you in doing all of this and more! Pardot, a Salesforce firm, assists B2B marketers in automating their marketing activities and driving revenue.
Pardot assists marketers in making meaningful connections, increasing pipelines, and enabling sales to close more transactions. Pardot connects buyers on their terms with dynamic, tailored campaigns and an easy-to-use interface. From click to closure, you can measure and analyse each step, capturing actual marketing ROI.
Marketing Automation Tool #8. Adroll
Adroll is a retargeting-focused marketing automation platform. It was founded in 2007 and is now utilised by over 35,000 marketers globally. It enables you to place and track advertising on the web and mobile, as well as on prominent social media platforms such as Facebook and Twitter.
Its simple interface allows anybody to easily obtain specific information on their advertising and makes retargeting a breeze.
Marketing Automation Tool #9. elink.io
elink.io is the quickest and most professional method to share aesthetically beautiful collected material on any topic. Consider it a professional Pinterest! We can help you generate customised newsletters, content pages for your website, and social media bio links.
Simply collect links related to any topic, edit the material within such as photographs, title, and description, and then post. There is no need for coding!
Marketing Automation Tool #10. Engagebay
Engage Bay is an all-in-one marketing automation application with distinct sections for the three golden components of marketing, sales, and service. It allows the consumer to select any or all of them based on their needs. It features a collection of automated tools in the marketing bay, such as a social media calendar, a design tool to build rapid landing sites, graphics, and newsletters. It also allows for the automation of multi-channel marketing activities.
In the sales bay, the programme includes customer success monitoring capabilities that allow you to monitor client engagement and attrition. All under one virtual roof, you may plan appointments with your customer and delegate work to your staff!
Other sales bay utility tools include automatic data entry, email tracking, and the preparation of smart analysis and statistics to help you understand your marketing journey and offer new methods.
In the third section, the service bay, the software ensures 100 per cent customer support with its incredible tracking and engagement tools. With live chat, a user-friendly UI, answer templates, and support groups, Engage Bay keeps you and your customers connected at all times! Overall, Engagebay is a well-rounded solution for all of your automation needs.
Marketing Automation Tool #11. Marketo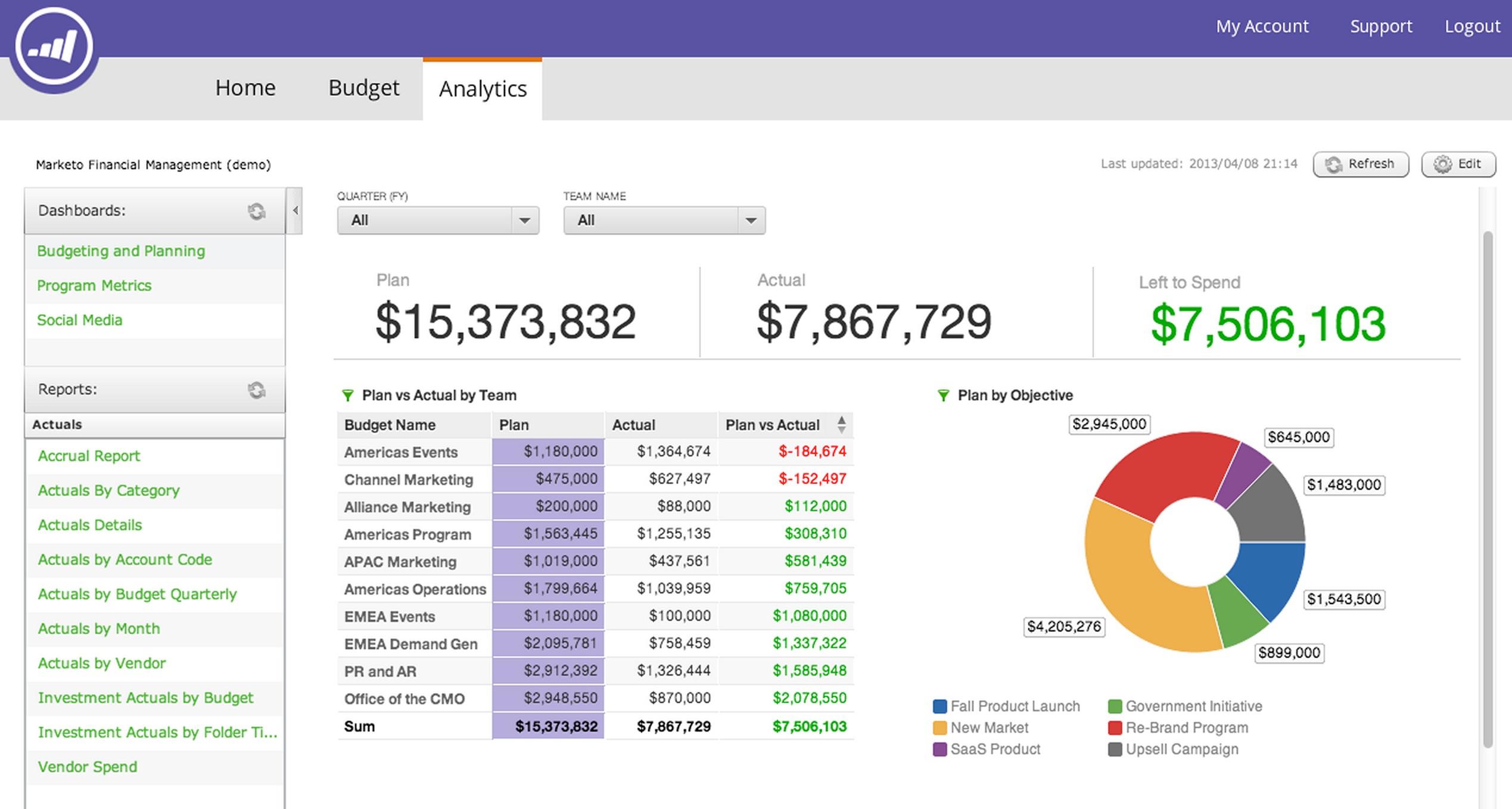 Marketo has emerged as one of the greatest marketing automation platforms, with around 2,300 clients and over 100,000 active users worldwide. Marketo is very adaptable and intelligent, allowing salespeople and marketers to accomplish desired outcomes in addition to its simplicity and convenience of use.
It is one of the most complete systems available, and it can easily expand with your business. Lead management, A/B testing, keyword analysis, customer engagement analytics, and more tools are available. Marketo is an excellent addition to your marketing arsenal!
Wrapping It Up
Great marketing may set your company apart from the competition and help you win long-term consumers. However, because we have so much on our plates on a daily basis, marketing activities sometimes take second place.
Thankfully, marketing automation technologies exist to make marketing more manageable for you and your firm. Keep in mind that each company has a distinct marketing objective. Depending on what you want to automate, you may select from any of the marketing automation solutions listed above.
Latest Blogs