What's the very first thing that comes to your mind after hearing the word 'Artificial intelligence'?
Is it something like – 'World of robots'?
Or is it something related to – 'future technology'?
When we talk about artificial intelligence (AI), we can no longer relate it with the futuristic world because it has become an essential part of our lives. Nowadays, businesses use artificial intelligence to enhance the efficiency of their workforce and narrow down the workload of reduced corporate staff in such a crisis. Artificial intelligence has become a great tool to cope up with the loss in workforces. Today we will talk about how you can empower your reduced contact centre staff with artificial intelligence in the current pandemic where remote working is the new norm.
Artificial intelligence always remains in the talk of the town when it comes to the replacement of employees by machines. But it is a proven fact that artificial intelligence can never replace humans. Rather than replacing the employees, artificial intelligence is a great tool to empower them, especially when we talk about businesses no matter the size.
By using artificial intelligence, contact centres can provide ample time to their employees to focus on other complex things and let the artificial intelligence perform the basic yet important operations of the company.
In this condition of the pandemic where the whole world is struggling to survive, businesses are facing a reduction in their workforce. This might influence the business growth, as it will directly impact customer experience.
In this article, we will be talking about how you can empower your reduced contact centre staff with artificial intelligence in this pandemic.
So, what are you waiting for?
Let's delve into this topic.
Evolution of Artificial Intelligence in Contact Centres
After the evolution of social media channels as a mode of communication, contact centres are not anymore limited to the telecommunication industry.
With the introduction of omnichannel communication in the communication industry, the term 'call centre' has become out of fashion. Now, customers look for online platforms in order to connect with the companies. In this case, artificial intelligence can eliminate human efforts to bring out the best results.
Automation has become a necessity in the current world, where the customer needs real-time solutions for his/her issues. It's basically an intelligent investment for increasing customer satisfaction at reduced operational costs.
Top 3 Ways To Empower Your Reduced Contact Centre Staff With Artificial Intelligence
As we know that contact centre agents receive high volumes of calls on a daily basis. In order to maintain customer loyalty and good customer satisfaction, businesses train their contact centre staff to answer customer's queries with fast and effective solutions.
But in this current Covid-19 pandemic where businesses are going through a good amount of loss which is leading to employee cutoff, artificial intelligence can become a powerful tool to cope up with the loss in workforces that too at reduced costs.
Let's talk about the 3 best ways by which you can empower your reduced contact centre staff and improve customer experience with artificial intelligence.
1. Use Chatbots For Real-Time Solutions
Nowadays, no customer wants to wait on call for so long, hearing that generic caller tune playing in the background. They look for chat features on online platforms to get their queries answered instantly.
Chatbots are programmed software by which whenever any customer will pose any query on your website, then he/she will receive an instant reply.
AI-powered chatbots are best for delivering personalised solutions to the customer's queries by adapting the same conversational tone as of the customer. These chatbots can resolve several queries with any human interaction.
According to research conducted by Invesp, chatbots can solve up to 80% of the routine queries of customers. So, we can say that including AI-powered chatbots in your business is a win-win situation as it will automate your contact centres and increase your customer service time.
Also, if the chatbot is not able to resolve the customer's query, then the chat will be immediately routed to an agent. This approach will eliminate the waiting time of customers, and the contact centre employees can focus more on complex tasks.
2. Perform Complex Data Analysis With Artificial Intelligence
A business should always be self-aware and must have proper knowledge of where it stands in the current time to set the goals for its future. Data analysis is very important to analyse and improve the performance of your company.
Artificial intelligence makes it easy for you to gather or access your data in real-time whenever required. Using this technology, you can keep a record of details of your work such as the number of calls answered per day, durations of calls, agent's information and many more.
In place of employees spending hours crunching records, artificial intelligence is really very helpful in this manner, as it can perform complex statistical calculations in a couple of seconds. You will save a lot of time, money and effort by using this approach. Also, your contact centre staff will work more efficiently when they will be knowing that their activities are continuously getting monitored.
3. Include Conversational IVR Integrated With Artificial Intelligence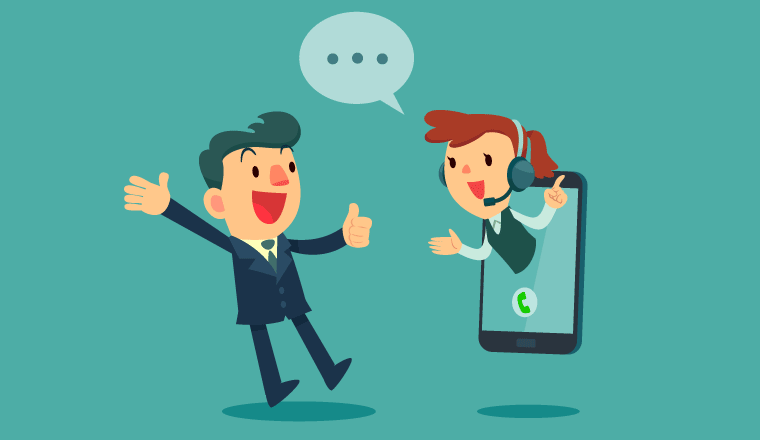 IVR is a real game-changer in the customer service industry. It offers first-point query resolutions and helps the contact centres to route customer calls without a live agent. AI integrated with IVR makes communication more conversational and interactive. Now let's take about how this integrated technology operated.
While operating with an IVR, whenever any customer calls the company, then they are firstly greeted with a prerecorded voice message. After that, a menu is narrated to the customer, and then they can input their requirement through the keypad.
Then the call will be immediately transferred to the contact centre agent for the further task. This was the systematic approach followed by the contact centres with IVR systems; AI has successfully made some further enhancements to this approach. Now, a customer can give a vocal input of his/her query. The AI technology will find some keywords and route the call to a real-time agent. This will eliminate the navigating efforts and confusion of your customers and help them with an instant solution.
Wrapping It Up
Technology can be a great blessing if utilised in a correct manner. Artificial intelligence is a great tool that can empower your reduced contact centre staff, especially in the current pandemic. Artificial intelligence can save your time, efforts and money at the same time. By integrating artificial intelligence with your contact centre, you can improve the productivity of your staff as well as the customer experience.