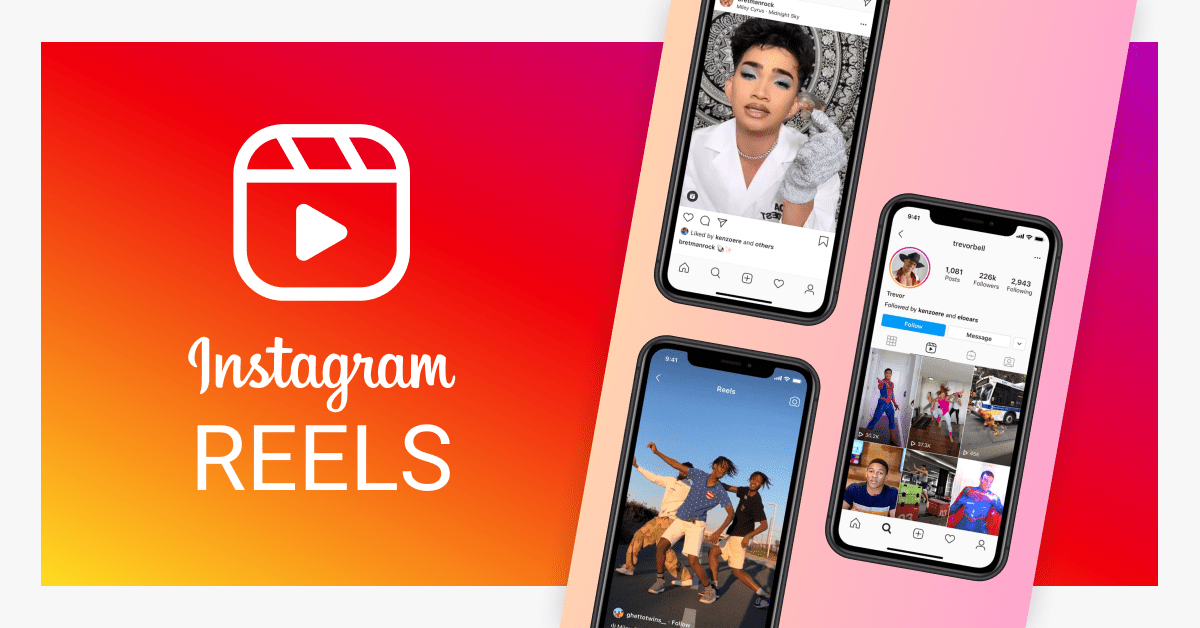 Instagram Reels is a new content format on the Explore page that allows you to create and share 15-second videos with others in a new dedicated Feed. It is Facebook's attempt to compete with TikTok, which is also aimed at short-form video creation and is particularly popular among Generation Z.
Instagram Reels, which debuted in Brazil in late 2019, are now available on iOS and Android in over 50 countries, including the United States, United Kingdom, Canada, Australia, and Japan.
Despite being dubbed a "TikTok clone," Instagram Reels has received positive feedback from influencers and brands. Many creators stated that they intended to experiment with Reels while remaining active on TikTok. Reels are already being used by companies such as Sephora, Walmart, and Beardbrand.
So, what exactly is Instagram Reels? How does it function? How can you use it in your marketing strategy as a brand? All of your questions are answered below.
Instagram Reels, like TikTok, provides a set of creative tools for creating fun, engaging short videos on Instagram. Create and share 15-second multi-clip Reels videos with audio, text, special effects, and stickers with your followers.
If TikTok has a dedicated landing page at the top of the Explore page, Instagram gives Reels a dedicated landing page at the top of the Explore page. You can access the Reels feed by tapping the first reel at the top. Reels from popular and trending Instagram accounts can be found here.
Why Instagram Launched Reels?
It's no coincidence that the majority of the features sound quite familiar. Reels might be viewed as a direct response to the rising popularity of TikTok, which has risen in prominence in recent years. According to Adweek, TikTok earned "the highest downloads for any app ever in a quarter" in Q1 2020.
Furthermore, TikTok's primary demographic is quickly shifting. While Gen-Z users used to dominate TikTok, Millennials now make up a larger percentage of the user population than ever before, making the site a far more appealing prospect for marketers.
According to Comscore statistics, the percentage of TikTok users aged 25-34 in the United States grew from 22.4 per cent in January to 27.4 per cent in April, while the 18-24 age group decreased from 41.1 per cent to 35.3 per cent.
So it's no surprise that Instagram is working to recreate TikTok's most popular features, particularly in markets where TikTok hasn't yet established a significant presence, such as Brazil. Reels, on the other hand, may have a far better chance of success due to its prominent position in the Instagram app – and all of the exposure and familiarity that comes with it.
As Instagram Reels is the biggest TikTok's competitor, it's worth examining how they're similar and/or dissimilar.
The essence of both Instagram Reels and TikTok is the same: they both provide users with a creative space in which to create and share short videos with others. They include creative options, allowing users to create the best clips possible.
However, they also have significant differences, as shown below:
| | |
| --- | --- |
| Instagram Reels | TikTok |
| A new feature inside the overarching Instagram ecosystem | A platform |
| Users can create a 15-second video only | Video time limit up to 1 minute |
| Reels shared to Stories will disappear after 24 hours | All videos stay on TikTok |
| Duet and local file upload aren't currently supported | Users can "duet" with each other and upload songs directly into the app's system |
Don't get Instagram Reels and Instagram Stories mixed up. Despite the fact that they sound very similar, they have a few key differences:
Reels include a variety of editing tools, such as AR effects, speed controls, and the ability to align multiple clips for cleaner transitions.
Explore and Stories can benefit from reels. When you upload a reel, you can choose whether or not to include it in your Feed. Like IGTV posts, all of the reels you create will appear in a dedicated section of your profile.
If you include original audio (sounds you end up recording in the video), your audio will be credited to you, and other users will be able to use it to create new reels.
Now that you know what Instagram Reels are, let's talk about how to use them in real life.
If you're familiar with Instagram and/or TikTok, you'll have no trouble making videos with Reels.
How To Log In To Reels
To use Reels, open the Instagram Stories camera and select REELS.
You'll use this button to make a reel.
How To Create A Reel
To make a reel, you have two options: (1) press and hold the record button to capture footage, or (2) upload video footage from your camera roll. Reels can be recorded in segments (one at a time) or all at once.
Follow these six steps to create your first reel:
Step 1: Scroll to the bottom of the screen and tap REELS.
Step 2: Preparing for a recording requires the use of tools. Tap Audio (1) to add audio from the library to your video. You can even choose to only include your favourite part.
Tap Speed (2) to change the speed of your video, Effects (3) to add special effects, and Timer (4) to set the length of your video.
Step 3: When you're finished, tap and hold the record button to capture a clip. There is a countdown before the recording begins if you set a timer early on.
During recording, you can end a clip by tapping the record button, then start a new one by tapping it again. The Align button will then appear, allowing you to align objects from the previous clip before recording the next. This is useful for creating smooth transitions between scenes such as changing outfits, adding new music, or adding new friends to your reel.
Tap the clip and edit it if you want to watch, trim, or delete the previous clip you recorded.
Step 4: After you've finished recording, you can edit your reel by adding stickers, drawings, and text.
Done! You already know how to make a video with Instagram Reels. Let us now look at how you can share it with your followers.
How To Share A Reel
When you're finished with your clip, tap the Next button to go to the Share page. Then, select Cover to replace the cover photo with a video thumbnail or to add a cover from your camera roll. You can also add a caption. You can save the clip as a draught if you don't want to publish it right away.
Instagram Reels enables you to do the following:
If your account is public, you can post your reel to a dedicated space in Explore or to the Reels tab on your Feed. When you share reels with specific songs, hashtags, or effects, your reel may appear on dedicated pages when a user clicks on that song, hashtag, or effect.
When you've finished sharing, your reel will look like this:
How To Find A Reel To Watch
On Instagram, there are four ways to find reels to watch:
1. Use Your Feed
You can look through your Feed to see reels made by people you follow. A Reels icon appears as a small clapperboard in the bottom left-hand corner of all reels. It's intended to set reels apart from other Instagram videos.
2. Use The Explore Tab
When you visit the Explore page, you'll notice a reel at the top of the screen. After watching the video, scroll down to see more reels. Some reels will have a Featured label, indicating that Instagram has chosen them.
3. Find Reels That Use Particular Audio Or Hashtag
Tap the audio name or hashtag at the bottom of the reel you're watching, and you'll be taken to a page with additional reels that use the same audio or hashtags.
If you like the audio, you can use it to record a new reel by clicking Use Audio.
4. Find Reels By Searching For Hashtags
Enter a specific hashtag into the search bar, and you'll most likely find reels that use that hashtag:
When Instagram Stories debuted in 2016, it was dubbed a Snapchat clone. But, in terms of daily users, Instagram Stories quickly surpassed Snapchat and has become an effective channel for brands to build their audience.
With this in mind, brands should seize the opportunity to be the first creators on Instagram Reels in order to engage a new type of audience—people who prefer quick-and-easy-to-digest content. Furthermore, brands can work with new creative talents to experiment with the Reels content they produce.
Also, reels are displayed on the Explore page, which is visited by more than half of all Instagram accounts each month. If your reel appears on this page, you have a great opportunity to gain new followers.
If big names like Maybelline, Sephora, and Louis Vuitton have been using Reels since the beginning, and if you're already using Instagram for business, why not give Reels a shot?
Convinced? Then, here are five strategies for incorporating Instagram Reels into your social media marketing strategy:
If you've previously published content on TikTok, consider repurposing it for Reels. As an example, consider ColourPop Cosmetics. This brand did a fantastic job of reposting TikTok videos on Reels.
By reusing TikTok videos, you can either introduce new types of content to your followers who haven't used TikTok before or help expose your content to new audiences.
Share Educational Content
Creating educational content is an excellent way to get started with Reels. There are so many things to share with your followers that can help them learn a new skill, whether it's the top 5 skincare recipes, a secret to making delicious pancakes in 10 minutes, or 5 tips for styling a skirt.
Showcase Products
I've said it before, but I'll say it again: Reels are now available on the Explore page, which means that Instagram users who do not follow you will be able to see your content—this is gold!
However, because it is not yet clear how the Instagram Reels algorithm works, you should use hashtags, text overlay, or descriptive captions to let Instagram know what you're talking about.
Furthermore, you can collaborate with Instagram influencers to promote your product:
Share Behind-The-Scenes Content
Behind-the-scenes content teaches your Instagram followers about who you are and why you sell the products you do. It is approachable, builds trust, and fosters relationships.
Consider the following two examples. During Covid-19, Fast and Food shared a video of their staff preparing food for guests, and Benefit Cosmetics US created a reel to show a day in the life of their graphic designer.
You can try the following behind-the-scenes ideas:
Tell us about how you select materials for your product.
Share your product-making process.
Share your team's day-to-day activities.
Share your brand storey, including how you got your business idea and what you've been through.
Announce your sales
Consider using Reels to publicise your sales and exclusive deals. IT Cosmetics US and Tarte Cosmetics were successful in implementing this tip, as they received a lot of engagement from Instagram users.
PRO TIP FOR USING INSTAGRAM REELS
Maintain your authenticity and avoid turning your videos into overt advertisements!
Consider this: many brands have found success on TikTok by showing their human side and letting go of the need to be perfect all of the time, which is exactly what TikTok users want to see.
As a result, try to keep the same level of authenticity in your reels. Concentrate on originality and fun rather than video quality. It could be emphasising staff uniqueness or bringing a mundane aspect of your brand to life with music and motion. This will result in a high level of engagement for your Reels videos.
Are You Ready To Try Instagram Reels?
It may be premature to predict that Instagram Reels will be as successful as its predecessor, Stories. But one thing is certain: it provides you with a new way to create more compelling content, better understand your followers, and increase your Instagram reach. So, give it a shot.
Using Hootsuite, you can manage your Instagram presence alongside your other social channels and save time. You can schedule and publish posts, engage your audience, and track performance all from a single dashboard. Try it for free right now.