If you're a marketing expert who is familiar with SEO, you've probably heard of the term Domain Authority. It's a useful metric that many SEO professionals use to determine the likelihood of content ranking in the SERPs.
Everyone has a different take on the importance of domain authority. As a result, the concept is quite perplexing.
In an easy-to-follow guide, this blog post will cover everything you need to know about Domain Authority. You'll learn what Domain Authority is, which tools use it, and how to boost the Domain Authority of your WordPress site.
What is Domain Authority?
Moz, an SEO software company, created the Domain Authority (DA) metric. Every website is given a score ranging from 0 to 100. The higher the score, the more likely it is that your content will rank organically on Google without the use of backlinks.
The lower the score, the less likely it is that your content will rank on Google.
The Domain Authority is determined by examining a variety of SEO metrics. For example, the number of authority backlinks to your site, linking root domains, the position of your content in search results, and so on.
Keep in mind that your Domain Authority is a total score for your entire site.
You also have a score for each page on your website. This is referred to as Page Authority (PA). A page that ranks high in the SERPs has a higher PA than a site that has no backlinks and no traffic.
The DA score becomes increasingly difficult to improve. Increasing your score from 0 to 10, for example, is much easier than increasing your score from 50 to 55.
Google does not use Domain Authority as a metric. It is a metric that approximates the operation of the Google algorithm.
So, why should you be concerned about your Domain Authority?
You use DA for keyword research to determine how likely it is that you will appear in search results for specific terms. For example, if everyone ranking for a specific keyword has a low DA and you have a much higher DA, it may be worthwhile to write a blog post or create a sales page that targets that keyword.
That is a gross simplification of how to use DA for SEO, but it should give you a sense of it.
So you now understand the fundamentals of Domain Authority. You have a basic understanding of how it works and why it is important. Let us proceed to the next section.
How To Calculate Domain Authority?
It is simple to check your website's DA score. A Domain Authority checker is available in many SEO tools. Here are a few that can be useful as a reference.
Tools That Use DA
Moz created the domain authority metric, making it the leading contender. When you browse any website on Moz, you will see its DA score as well as the page authority of the specific URL.
Along with Moz, other tools that use DA include SEMRush and Majestic. There are also numerous websites that provide a free DA checking service. These tools use an API to retrieve information from websites such as Moz.
Ahrefs DR
Ahrefs does not give you a Domain Authority score. They created Domain Rating, an independent SEO metric. Domain Rating (DR) is similar to DA but has some key differences.
The Ahrefs DR assigns a score from 0 to 100 to a website. The higher the score, similar to DA, the more powerful the site. DR, on the other hand, places a greater emphasis on the number of referring domains. As a result, you'll come across some sites with a high DR but low site traffic. You won't find such a link with DA.
6 Actionable Ways To Improve Domain Authority of WordPress Site
You now understand how Domain Authority works and how to check your DA. Here are a few practical strategies you can use to increase the authority of your website:
1. Create Killer Content
Longer articles receive three times as much traffic, four times as many shares, and 3.5 times as many backlinks as shorter articles. Because content is so important, you must understand how to write articles and sales pages that generate backlinks and rank on Google.
Always keep the user in mind when creating killer content for your WordPress site. Your goal is to create content that people will find interesting and useful.
Fortunately, thanks to a new generation of SEO content writing tools, creating this type of content is becoming increasingly easier. Surfer SEO and Clearscope are two market leaders in this space (though there are plenty of alternatives). Both tools operate in a similar manner. Let's discuss.
Clearscope, for example, examines the first 30 or so search results for the keyword you're interested in. The commonalities between the ranking pieces of content are then identified. Among these similarities are:
The average article length
Common keywords and phrases (plus keyword density for these terms)
Common headings
The tools then produce a report.
The report serves as a framework for the article or sales page you're working on. You can use those insights to improve the structure of your article.
This will assist you in optimising your content for SEO.
The tone of the writing should then be considered. Content style guides can be used to ensure that written content is consistent with your brand. You should also provide your writers with a grammar and punctuation checker to ensure that their articles are error-free.
2. Run Guest Post Campaigns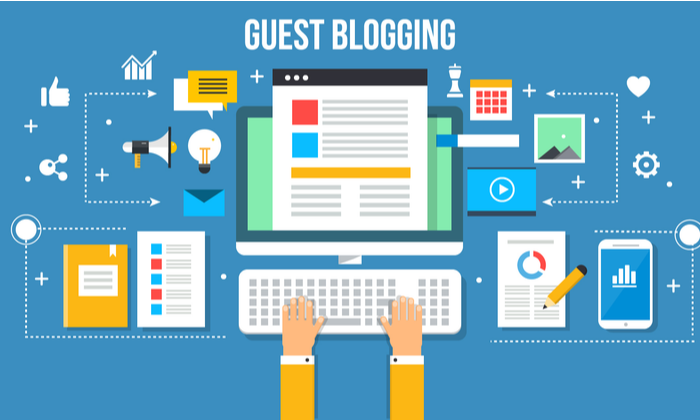 Guest blogging is one of the most effective ways to boost your website's Domain Authority. Guest blogging allows you to connect with other sites in your niche while also increasing exposure for your company.
Running a guest post campaign can be challenging, but the approach is simple.
To begin, make a list of relevant sites to which you can submit a guest post. This type of campaign does not necessitate the use of any tools. For example, you could use Google to search for the following keywords:
Niche + guest posting
Niche + become a guest contributor
Niche + contribute
Using an SEO tool to generate a list of relevant sites is a faster way to find guest post opportunities. You could, for example, use Ahrefs to examine the backlink profile of an authority site in your niche.
You can then see if those sites accept guest posts and pitch ideas to them.
While pitching and writing guest posts takes time, it is a great way to increase the DA of your WordPress site. There are additional benefits, such as referral traffic and exposure to a new audience, among others.
3. Focus on Usability
Google considers usability to be an important ranking factor. If you want your content to rank in search results and get people to link to it, you must provide a great user experience to site visitors.
It is critical to select the best WordPress theme. You want a theme that is both mobile responsive and visually appealing. Depending on your requirements, you may want to use a custom WordPress page builder to create your custom sales page.
Another factor to consider is the speed of the website. You need a WordPress theme that loads quickly.
Hopefully, the WordPress theme you're interested in loads quickly. If it doesn't, you'll need to install some plugins to improve page load times. There are numerous plugins available that optimise various aspects of site speed.
NitroPack is one of the best plugins I've recently discovered. The plugin includes an auto-optimize feature for WordPress sites, which significantly improves site speed.
It excels at optimising mobile load speed in particular.
Implementing usability-enhancing strategies will ensure that visitors have a better experience on your site. Providing a better experience increases your chances of naturally acquiring backlinks. People are also more likely to stay on your site for a longer period of time, which benefits your DA.
4. Conduct Competitor Analysis
You will always have competitors, no matter what niche you operate in. If you are the most popular website in your niche, you should keep an eye on what other sites are doing to get their content to rank in the SERPs. If you are a small business looking to gain a foothold in your industry, you should look at what other companies have done that has worked in your niche.
Essentially, regardless of how well you are doing, you must keep an eye on and learn from your competitors. You should specifically consider:
Type of content they are creating
Keywords they are targeting
Backlinks they are securing
By keeping an eye on what your competitors are doing, you can either mimic their approach or devise a better strategy. That is significant in business because there are many skilled marketers out there.
There are numerous tools available for tracking competitors, many of which can generate automated reports. It's a great way to see how your SEO efforts are affecting your website.
5. Try PR Link Building Campaigns
A PR link-building campaign is one interesting strategy you could try to improve the Domain Authority of your WordPress site. An effective campaign is difficult to implement, but the results can be impressive.
The GAME Christmas Tinner is a great example of a clever public relations campaign. They launched the campaign in December 2019 in order to rank a page on "gaming chairs" for Christmas.
GAME began reaching out to journalists after creating a page and developing a campaign idea. The tongue-in-cheek campaign received a lot of press attention.
That attention resulted in backlinks from a plethora of authority sites.
These links drive traffic to the target page and increase the site's DA.
These kinds of public relations campaigns are difficult to carry out. To create a great campaign idea, you need an original thinker on your marketing team. However, if you have someone like this on your team, you can achieve fantastic results.
6. Use Plugins to Facilitate Social Engagement
To increase your social media engagement on various platforms, use WordPress plugins that are related to your goal or campaign. You should try some of the great social media plugins available.
You can, for example, incorporate a social media plugin such as NovaShare into your website. The plugin makes it simple for people who like your content to share it with their friends and followers online.
Another social media plugin to consider is Social Auto Poster. You can use this tool to automatically post content to social media. Contests and polls also draw large crowds. To promote your WordPress site, you can use plugins such as Contest Hopper to create contests for your social media pages.
Wrapping It Up
The authority of your domain is critical to your SEO success. While a low Domain Authority score does not guarantee that your website will perform poorly, it does predict how your website will rank in SERPs.
So, look for ways to boost your DA score. Make your website mobile-friendly, create shareable content, and mimic the backlinks of your competitors. Run guest post campaigns, use plugins to help with social engagement, and provide an excellent user experience.
But don't get too hung up on a Domain Authority score. Instead, try to focus on the big picture and work on the various factors that will contribute to your solid Google rankings. Best wishes!
Related Blogs