The Internet appears to be brimming with useful, amusing, and instructive places to spend time, not to mention crucial venues for brands and enterprises to engage with their target audiences.
Quora, the community-driven question-and-answer site, keeps coming up for us. It's been referenced in a few publications on issues like idea curation and content sources.
And it's made us wonder:
What can a marketer do with Quora?
I was eager to do some study and learn everything there is to know—and there is a lot! Quora has a lot to offer, from content ideas to authority building to content production, and so much more—even if you only spend a few minutes there each day.
First off: What is Quora?
Anyone can ask and answer questions.
And the community votes on which responses are the most useful.
It's a very interesting environment where someone can ask Rand Fishkin an SEO question, or someone can inquire about playing basketball with the president, and Barack Obama can join the conversation.
Beyond the basic question-and-answer format, Quora's advanced sections may also be useful to know before diving in.
You may direct your question to certain Quora users, asking them to respond along with the rest of the community.
Quora, like LinkedIn's publishing platform, allows you to submit content.
You may search for particular questions or subjects relating to your business and follow them to be notified when new questions are posted.
You may use credits to get your question seen by more people.
And why is Quora a good location for marketers to be?
According to Quantcast, approximately 775,000 individuals use Quora each month in the United States alone, representing a sizable following of well-intentioned interested information seekers.
There are a few pretty good reasons why Quora could be worth considering for marketers. Increase your visibility to Quora's 700,000+ monthly visitors.
Develop your knowledge and authority on your chosen topic.
Learn from others, such as users, customers, and industry experts.
Respond to product-related inquiries.
Learn what queries consumers have regarding your product or business.
Of course, obtaining direct ROI through Quora is not the primary aim, as it is with other social networking platforms. SmartHustle's Ash explains it this way:
With that in mind, here are some easy methods for marketers to get the most of Quora in as little as five minutes each day.
1. Create The Optimal Quora Profile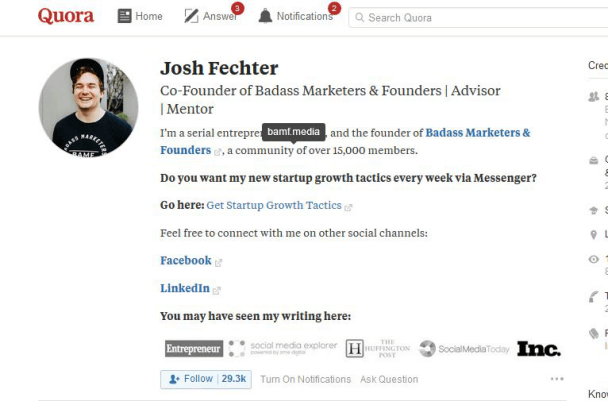 Every time you leave an answer, a little of your bio appears at the top.
This is a fantastic opportunity to expand your brand.
The first 50 characters of your profile (your name and bio) appear as a tagline above your answer on Quora.
Make the most of your 50 characters by mentioning your brand name as early as feasible.
Your whole bio can include clickable links and even @-mentions from other users.
You can also have topic-specific biographies. So, while answering questions about social media, you might highlight your knowledge in social media, and when answering questions about code, you could add your skill in engineering.
Click on your profile page to create a topic-specific bio. A list of "Knows About" subjects may be found in the right column. There is a link to "Describe your experience" next to each topic. By clicking here, you can customise the topic-specific bio.
After that, go ahead and fill up as much of your Quora profile as you can.
Include a thorough "About Me" section.
Include your areas of expertise.
Include your passions.
Your towns
Colleges and universities you've attended
Previous businesses
Connect any additional social media accounts you have.
All of this helps you become noticed on Quora and may make it simpler for others to find you when they search for Quora users to answer their questions.
And, if you're new to Quora, take some time scrolling through the answers and upvoting those that grab your attention. Upvotes display immediately on your public profile and might be a strong indicator that you're engaged on the site.
2. Track Topics With Notifications
A fun form of market research is one of Quora's biggest benefits for organisations.
You may find out what questions individuals have regarding your sector.
You may also have these questions and answers delivered to your mailbox on a daily basis.
To get started, just put the topic you want to follow into Quora's search box. Quora will provide you with a list of autocompleted recommendations, and when you click through to a subject page, you'll get a separate list of related topics to follow down the side.
You can also look for folks to follow and get alerted when they post new replies.
For blog postings, search for the blog's name or author and click to follow the blog to receive notifications when a new post is published.
To ensure that your email notifications are correctly configured, go to your Settings page and choose Email & Notifications. You may customise the frequency and specificity of the Quora emails you get here.
Furthermore, each time you check in to Quora, your home feed will feature the most recent updates from the subjects, people, and blogs you follow.
3. Find The Best Questions To Answer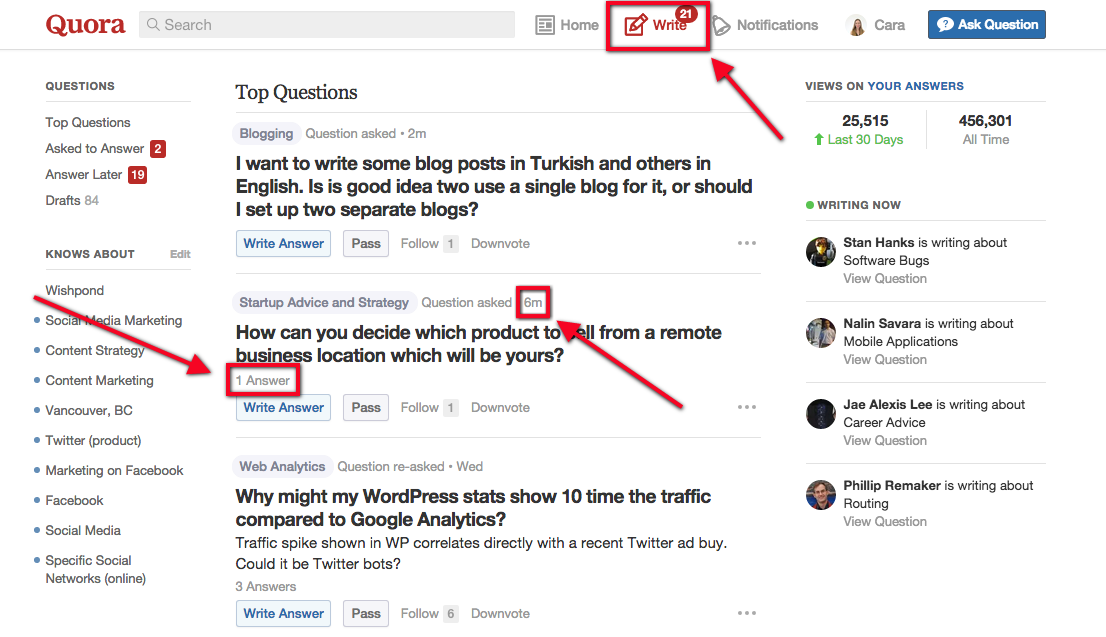 On Quora, you may answer any topic you choose, which is a wonderful way to become engaged in the community and contribute your expertise.
Here are some things to think about if you're searching for a strategic method to answer inquiries.
Look up the topic you're interested in. This will drastically limit down the questions.
Choose a topic that is relevant to your business, that you have recently written about, or for which you have relevant statistics.
Look for threads that have a lot of upvotes. The upvotes indicate that the queries have received a lot of attention. A popular answer here might result in thousands of views each day (and dozens or hundreds of clicks back to your site).
Look for fresh questions. If you respond early, you have a better chance of rising to the top of the responses list.
4. Answer A Question With Authority
You acquire skill and influence as you disseminate information. The ability to be perceived as an authority on a certain issue is perhaps Quora's biggest immediate value for marketing.
Answer a question and give an exceptional value, and your impact will skyrocket.
So, what constitutes a good response?
The greatest Quora answers include data, sources, and references—a decent, brief response that refers to an external resource.
"Good and short" might refer to a variety of factors, including:
Interested in the subject
Personality
Specific
Focused
Telling a storey using takeaways
After you've written your correctly ensured brief" (and useful) response, you may include a link to what you've mentioned, which is especially important if the information is available in long-form on your blog or website.
Here's a fantastic example of an answer that meets several of these criteria: it's succinct, precise, and focused, and it offers a link to learn more (as well as being well-formatted, which I'll discuss later).
5. Re-answer Questions You've Answered In Your Blog (and Link To Your Answer)
We're now going into the world of reusing material or making your blog posts and articles useful long after they've been published.
Assume you've published an essay containing a plethora of solutions to a common query or problem.
Take the blog article, locate the questions you answered, and post them to Quora.
Then simply share your responses to the Quora questions, referring back to the blog page for further information.
6. Build a Quora Page For Your Business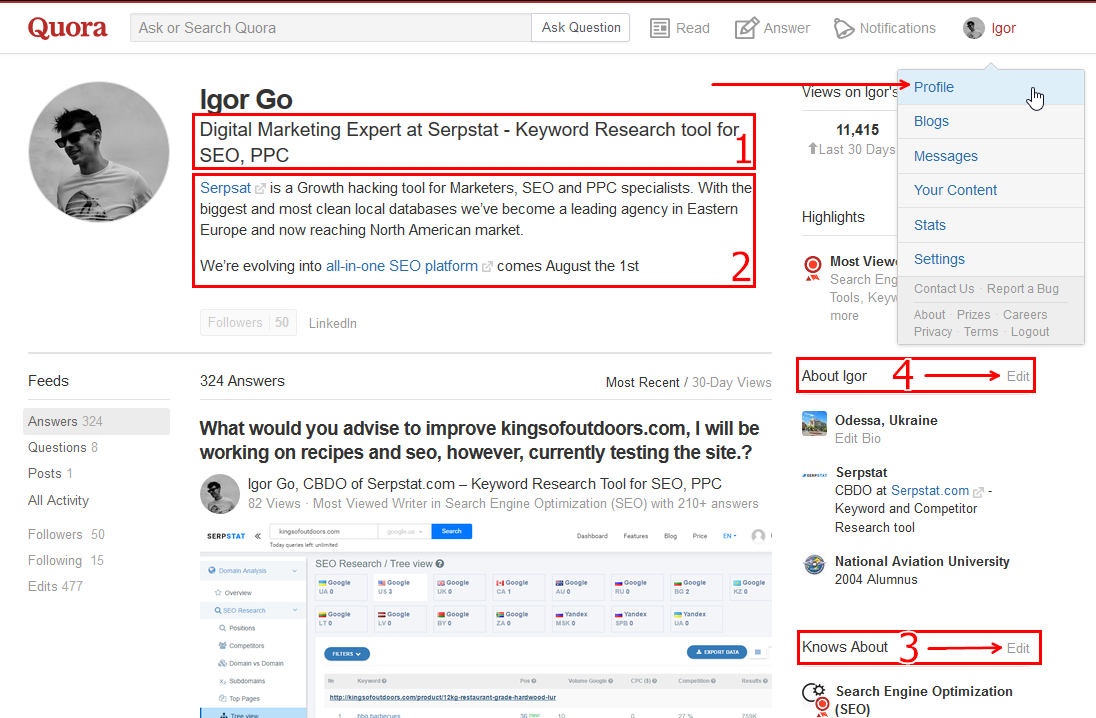 Quora, like Wikipedia, allows anybody to build a page on anything. This is an excellent opportunity to create a corporate page for your firm.
Begin by searching for your company's name on Quora.
If you don't see the name displayed as a subject on the results page, check in the right sidebar beneath the "Add Question" box and click the link to "Create Topic."
This allows you to name the topic and provide a brief description.
Once your subject is published, you may ask the Quora community to review it. This is especially useful for those who are debating whether to subscribe to a service or otherwise become associated with a firm. It's a wonderful method for you to add some social proof and testimonials to your brand's Quora presence.
Related Posts