How satisfied are you with the success of your company this year? Are you patting yourself on the back for accomplishing all your business goals? Smiling as you glance over your extensive list of accomplishments? Are you lounging on your laurels?
If the answer is no, you're like many business owners who struggle to meet their business goals. You know exactly what you want—a larger business, more per-customer sales, more leads, and higher profits—but you're having trouble meeting your targets.
Here are some unbeatable business goals that every company owner must look for in 2022.
1. Upgrade To A New Business Plan
Setting business goals begins with a business strategy. This design a path to success by outlining long-term business goals and breaking down short-term business goals for a company to attain as a step toward longer-term objectives.
Unfortunately, many businesses only consider their business goals when starting out or seeking finance. This prohibits them from implementing their ideas as a tool for guiding your activities.
Set a goal of evaluating your business plan on a frequent basis and keeping it updated to reflect changes in your approach to position your company for success. You can keep your business plan up to date by arranging yearly, semi-annual, quarterly, or monthly reviews.
Examine your business goals to ensure that it sets quantitative targets that can be monitored using key performance indicators (KPIs). For example, your business goals may contain a target of attaining a specific level of revenue by this time next year, with benchmarks set for each quarter.
2. Focus On Financial Planning
Solid financial planning is the core of a successful business plan. Increased profitability is one of the most significant financial goals for a corporation. This simply means increasing income while decreasing expenditures. Setting quantifiable targets that encourage revenue development or expense reductions will help you succeed.
Some examples of business goals that provide measurable strategies to generate income include:
Increasing the number of qualified leads
Improving the effectiveness of lead conversion to produce more revenues per lead
Pricing should be adjusted to optimise your average revenue per sales transaction.
Some business goals examples that illustrate ways to decrease operational costs include:
Increasing efficiency by reducing worker hours and expenditures by implementing standardised procedures.
Outsourcing assistance to reduce payroll expenditures.
Using automation to reduce work hours and costs.
Examining your profit-and-loss statement will allow you to discover your current income and spending levels and how they are broken down. Examine your most recent financial accounts to determine where you should focus on boosting income or lowering expenditures.
3. Optimize Your Marketing Message
Changing your marketing theme to attract more qualified leads is one of the most effective business goals to boost your income. If you're not focusing on your target audience or the perks that appeal to them in your marketing message, you're squandering your promotional money by appealing to the wrong type of consumer base or trying to sell the wrong product.
Improve your primary marketing message, also known as your unique selling proposition (USP), to get more bang for your buck in marketing. This is a quick statement summarising what you provide, why people should look for this product or service, and why they should buy it from you rather than one of your rivals.
You can enhance your USP by implementing the following strategies:
Try to spread your marketing message to a different niche audience that might be interested in your product or service.
Determine the pain point of your audience that resonates in your industry.
Highlight the features and benefits of your product that will appeal to your target audience.
Keep updating the price of your product according to the market and demand.
Do market research to learn more about what your target market wants and what your competitor offers before crafting a compelling marketing message. Create an offer that distinguishes you from the competition and test it on a sample of your target market to determine its efficacy. Highlight it in your marketing content once you've found a good deal.
4. Attract More Organic Traffic
Increasing your revenue by attracting more leads is another option. Using content marketing to drive organic traffic to your website is one of the most effective techniques to acquire new leads.
To begin, examine your website analytics data to determine your current traffic numbers. Use this as a starting point for setting business goals for increased traffic. Optimise the traffic by conducting keyword research to see which keywords are popular with your target demographic. Plan the creation and dissemination of content related to your target keywords.
Track your outcomes regularly and adapt your business goals and techniques to stay up with changes in traffic patterns.
5. Improve The Social Media Outreach Of Your Brand
Another effective strategy for increasing traffic to your business website is social networking. You can enhance your traffic by using social media content and social advertisements.
Begin by using analytics tools to evaluate your existing success, such as the number of likes, shares, and followers you have on various platforms. You can also use these analytics to analyse your current followers and locate audiences with the same interests as your present audience.
You can then create content and advertisements to reach your desired audience. Set business goals for improving your social outreach, track your progress and make changes as needed.
6. Strive To Make Your Website More User-Friendly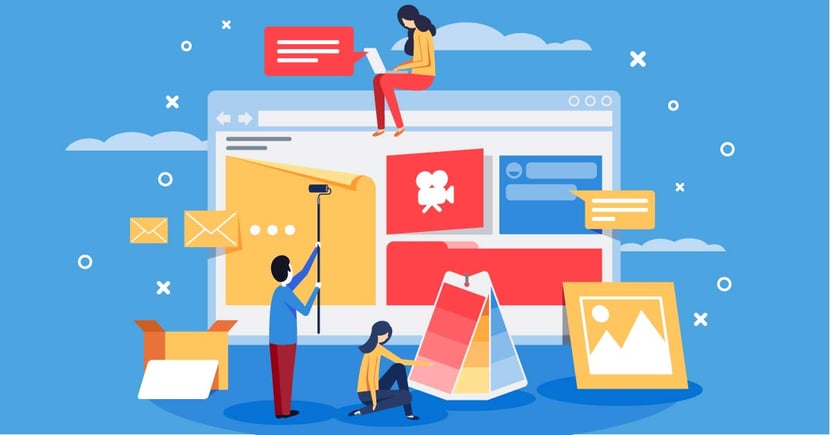 After attracting people to your website, enticing them to stay becomes critical to turning them into paying clients. By conducting a website audit to enhance the user experience provided by your site, you can convert more of your website visitors into customers.
Begin by using web analytics tools to determine which pages on your website are receiving the most traffic and if you're directing visitors to web pages that are important to your sales processes, such as email registration pages, free trial pages, and sales pages.
Monitor what visitors are doing on your website with the help of a heat map analysis, which employs colour-coding to graphically show where visitors are browsing and clicking on your pages. Use this data as a starting point to figure out what your visitors are doing right now.
Set business goals for what you want them to do, and talk to your web designer about how to make this happen.
7. Boost Your Email Subscription Rate
Increasing the number of website visitors who opt into your email subscriber list is also one of the most crucial business goals to convert more website visitors into customers. Once a subscriber is on your list, you can use extra marketing touchpoints to help them progress through your sales funnel.
You can boost your email subscription rate by doing things like:
Improve your website's UI in order to drive more traffic to your opt-in page.
Provide a good incentive for people to join your email lists, such as a free how-to guide, white paper, or video tutorials.
Improve your opt-in page's sales copy with a stronger headline, graphic, or opt-in offer.
Use your email and web analytics tools to measure your current number of subscribers as well as the proportion of visitors to your site and opt-in page that convert to subscribers to make your email subscription rate targets quantifiable.
Track the results as you change your website's design and opt-in page to determine the impact. Different variations of your opt-in page should be tested to discover which one produces the most outstanding results.
8. Enhance Your Sales Volume
You can instantly raise your revenue by expanding the number of sales. You can do this by pursuing one of three key strategies:
Reduce the number of steps present in your sales process, making it a breeze.
Provide valuable deals and offers to your customers for better conversion.
Work on repeat sales to existing customers
To demonstrate the first technique, if you observe that a large number of digital purchases are being abandoned during your checkout process, you may want to reconsider your shopping cart design to ensure it is user-friendly.
To demonstrate the second method, you may try a new closing offer to see whether it performs better than your existing one. As an example of the third technique, you may launch a new product or service aimed towards clients who have previously purchased from you.
To create an efficient sales action plan, first, assess your existing performance using key sales KPIs such as the total number of sales or conversion rate per sales appointment. Set targets that indicate an improvement based on your current data. Then use tactics like the ones outlined above to enhance your stats and work toward your objectives.
9. Try To Implement Virtual Outsourcing
Payroll is often one of the most expensive expenses for any firm, so any efforts you can take to reduce payroll costs will tend to enhance your profitability. Outsourcing operations that do not require full-time personnel is a primary approach for lowering payroll expenses. Such activities are often classified into a few broad categories:
Accounting is an example of a routine operation that is required but does not involve your primary business activity.
Operations that your in-house team could perform but would be more time-efficient or cost-effective to outsource, such as customer service calls
Operations that are outside the scope of your in-house staff's competence, such as web designing
Examine your profit and loss account for expenditures and search for areas where outsourcing might assist you to save money.
10. Incorporate Automation For Improving Efficiency
Another option for reducing payroll and other costs is to boost operational efficiency through automation. Automation allows you to minimise the number of hours necessary to perform a task, lowering the number of labour hours you must pay for while freeing up time for people to focus on more productive, revenue-generating tasks.
Automated systems can also assist you in scaling up revenue-generating operations like marketing or sales. Anything that requires a routine, repetitive job, for example, such as:
Task scheduling and email alerts for project management
Meeting scheduling and announcement.
Data entry of contact and sales information into customer relationship management databases.
Setting up email drip campaigns.
Data synchronisation between sales transaction software and accounting software.
Responding to regular customer service requests, such as those regarding forgotten passwords or account balances.
Examine your business for areas where automation might help you boost efficiency, decrease expenses, or generate income.
Wrapping It Up
These business goals aren't designed to be exhaustive or intimidating. You do not have to pursue all of these objectives simultaneously, and you may have other priorities that take precedence over these.
Use these sample business objectives to spark your own ideas and create your own list of personalised business goals. Prioritise a few of them that are critical to your company's aims and objectives, and plan and take tangible measures to accomplish them.
Latest Blogs