The cryptocurrency situation in India is precarious, as the government is working to regulate cryptocurrency due to concerns about illegal practices and volatility. However, cryptocurrency exchanges and cryptocurrency apps are still available in India. Almost all available exchanges have mobile applications that investors can use to check their accounts, view prices, make trades, send crypto, and do other things.
Every cryptocurrency app has a distinct user experience, and some outperform others. We compared the best cryptocurrency apps for Indians to use for their daily crypto tasks while staying up to date on current market trends no matter where they are.
Because cryptocurrencies are still a somewhat speculative investment, they may not be suitable for everyone. Investors can expect a roller coaster ride whether they make money in the long run or not. That said, if you believe in cryptocurrencies' long-term potential and have a high-risk tolerance, there's nothing wrong with holding some digital currency as a long-term investment.
Keeping this in mind, here are some of the best cryptocurrency apps for 2021. These include brokers, exchanges, and apps that can be used to begin building your own cryptocurrency portfolio right away.
Best Cryptocurrency Apps to Buy and Trade Cryptocurrency in India
It's worth noting that cryptocurrency's legality in India is still up in the air. It has not yet been declared legal tender in the country. However, regulators have finally opened the door for companies to launch their ventures, which has resulted in the development of several cryptocurrency apps in recent years that allow you to invest in cryptos such as Bitcoin, Ethereum, Dogecoin, and others using your smartphone rather than large-heavy machines such as laptops.
The list below includes the best cryptocurrency app options for Indian investors to monitor their crypto portfolios and make transactions from anywhere that we've compared and reviewed.
Binance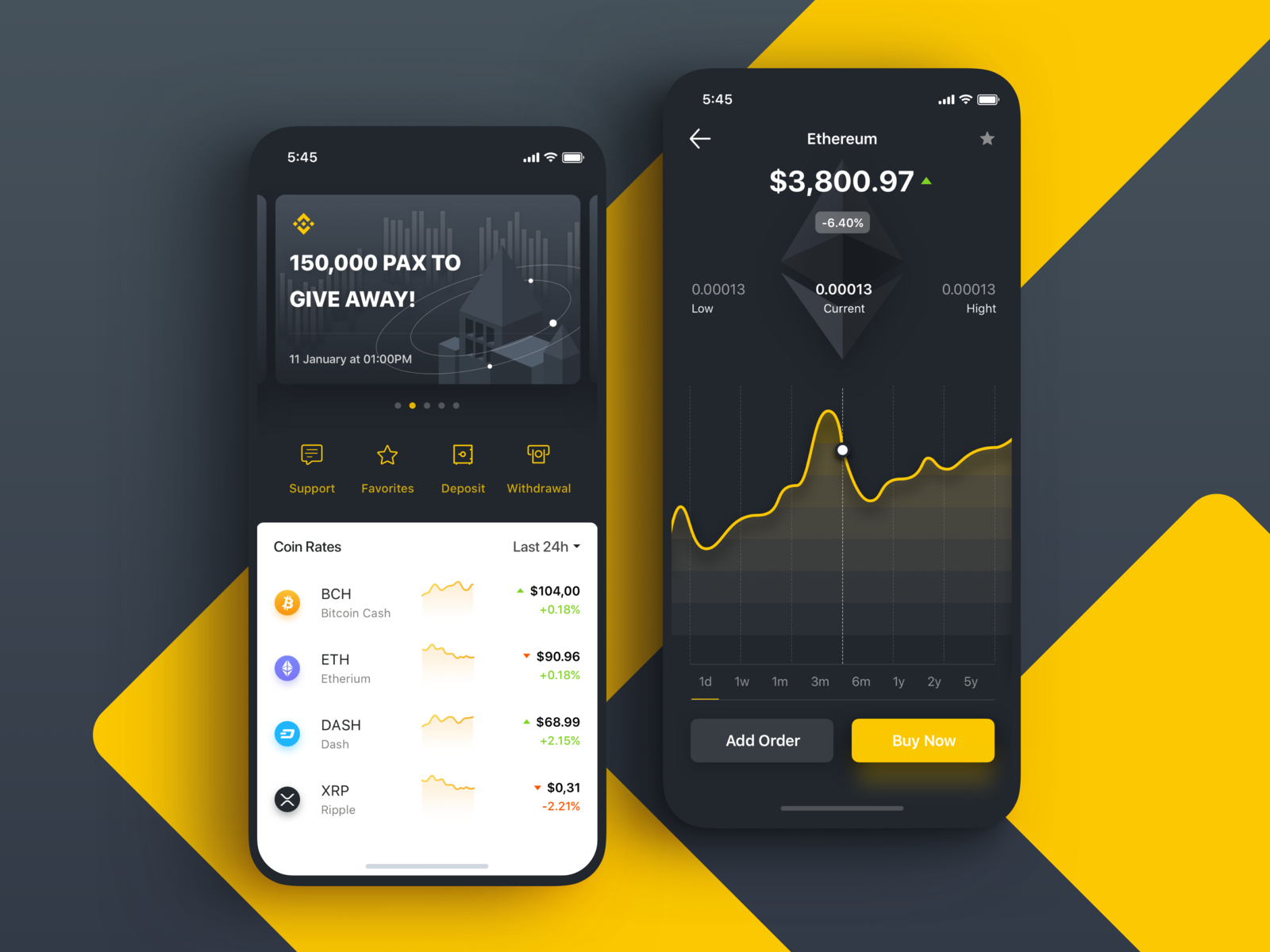 Binance is the world's largest exchange by trading volume, and it has a mobile app with an excellent user interface. The Binance cryptocurrency app includes a number of features that make it simple for Indian users to buy digital currencies using rupees or other payment methods such as UPI or Paytm.
Binance also offers a Binance Academy app through which users can learn more about blockchain and cryptocurrencies. Users of the Binance India cryptocurrency app will receive notifications about their holdings and will be able to monitor their crypto wallets, trading charts, and open trades.
WazirX
WazirX is a well-known cryptocurrency trading platform and cryptocurrency app in India. Binance now owns the company, so assets can be transferred from Binance to WazirX at any time. The cryptocurrency app is simple to use and includes all of the features you'll need to trade, view assets, and send or buy cryptocurrency. WazirX apps are available for Android, Google Play, iOS, Windows, and Mac. WazirX takes pride in offering an Indian-focused app with fast transaction speeds and an excellent user experience.
WazirX charges a 0.2 per cent fee to both the taker and the maker. You can fund your WazirX wallet with any amount greater than Rs 100 using NEFT, RTGS, IMPS, and UPI. The first three incur a transaction fee of Rs 5.9, whereas UPI transactions are free of charge.
Coinbase
Coinbase has a global presence, but it is based in the United States. Their cryptocurrency app has been lauded as one of the easiest to use, making it ideal for novice investors looking to conduct simple and secure crypto transactions. The cryptocurrency app is great for keeping users informed about markets by providing price alerts, news, and learning opportunities. The cryptocurrency app also allows you to buy, sell, trade, and convert cryptos, as well as earn rewards by watching short educational videos. Indians can open Coinbase accounts and download the Coinbase mobile app from any major app store.
CoinSpot
CoinSpot is a cryptocurrency exchange based in Australia that provides users with a simple and elegant mobile solution. Users can use the app to access all account features, trade from their large coin selection, and view all pricing charts and data. CoinSpot is a fantastic international cryptocurrency app with some of the best security features and oversight from Blockchain Australia, Australia's blockchain industry body.
Kraken
Kraken is another international crypto trading platform based in the United States with an excellent mobile app. Kraken decided to re-enter the Indian market after the banking ban for crypto firms was lifted in 2018. The app is simple to use and includes tools for trading, monitoring, and sending your crypto assets. For users who require more advanced features, such as trading crypto options, they have the Kraken Pro app.
Unocoin
Since 2013, Unocoin has been serving Indian cryptocurrency investors. The company has been fighting for crypto rights in India, and its cryptocurrency app allows users to trade a wide range of digital currencies. They take pride in providing quick customer service, making them an excellent choice for Indian investors who require assistance in Hindi. Their cryptocurrency app has great features that allow users to auto-buy, purchase with INR fiat, and easily view and send funds.
Unocoin deposits require a minimum of Rs 1,000, which is higher than what WazirX provides. Users are not charged any fees when depositing funds via NEFT, RTGS, IMPS, or UPI. However, using MobiKwik wallet incurs a 2% transaction fee, and using debit or credit cards incurs a fee set by the banks. Unocoin also includes biometric security features such as finger ID and passcode. However, if you enter the incorrect code along with the biometric ID, the app will log you out.
ZebPay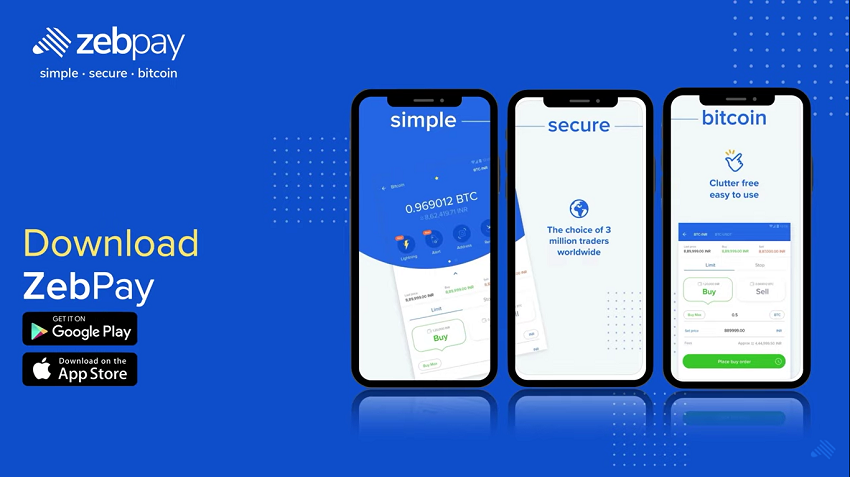 ZebPay is a popular cryptocurrency exchange and app in India that provides a simple interface while still providing advanced trading features. Users can use the Bitcoin Lightning Network to make payments and benefit from an enhanced security feature that disables any outgoing payments or transfers. Users can also set trading alerts, trade pairs, and buy a variety of cryptocurrencies with minimal slippage.
Zebpay charges fees in all price ranges. It charges a monthly membership fee of 0.0001 BTC. According to the app, you can avoid the fees by actively investing in it. Zebpay charges a 0.15 per cent maker fee and a 0.25 per cent taker fee. However, if your trading (buy and sell) occurs on the same day, you will be charged a trading fee of only 0.10 per cent. Zebpay accepts all cryptos for free deposits. However, there is a Rs 15 fee if you deposit via UPI, and a 1.77 per cent fee if you deposit via net banking. The platform also charges a fee of Rs 10 for all withdrawals and 0.0006 BTC for Bitcoins.
CoinDCX
CoinDCX is a smooth, user-friendly, and versatile cryptocurrency app. CoinDCX claims to have over 4 million Indian users who trust it with their cryptocurrency investments. The cryptocurrency app supports over 200 crypto tokens for trading, and getting started is simple. The signup process has been simplified, and a one-time password (OTP) sent to the user's mobile number and email address is required. CoinDCX prioritises security: it is BitGo-insured, all passwords and personal data are encrypted, and 95 per cent of all funds are stored in multi-sig cold wallets. CoinDCX is also backed by some of the most prominent cryptocurrency investors, including Coinbase Ventures, BainCapital Ventures, Polychain Capital, and BitMex.
You can learn a lot about investing in cryptocurrencies and how they work in the virtual world by going to the app's Settings tab. CoinDCX charges a 0.1 per cent maker and taker fee, with a Rs 1,000 minimum withdrawal limit that is fee-free. To trade in cryptos, this cryptocurrency app only supports INR. You can fund the account with NEFT, IMPS, RTGS, UPI, or even a simple bank transfer.
CoinDCX has a robust set of security measures in place, which is a good thing. First, users must authenticate themselves using the Google authenticate app. Because without it, you will be unable to begin trading on the cryptocurrency app. You must also create a withdrawal password that must be confirmed for each withdrawal.
CoinSwitch Kuber
During the recent IPL, CoinSwitch Kuber was a constant ad feature. This platform has received funding from well-known investors and venture capital firms such as Sequoia and others. It claims to allow you to trade in up to 100+ cryptocurrencies and to offer the best trading rates in the market. Create an account for trading on the app using your mobile number. However, you cannot begin trading until you have completed the KYC process.
To secure your account on the app, you can enter a four-digit pin code. According to CoinSwitch Kuber, the first 100,000 users on the platform will not have to pay the trading fee for 100 days. People have flocked to CoinSwitch Kuber because of its simple user interface and aggressive marketing. The best cryptocurrency exchange app accepts INR deposits via NEFT, bank transfer, and UPI.
However, the platform refuses to share information about its security measures for keeping crypto assets safe. The overall service mechanism could be improved, and the details of trading are lacking.
Bitbns
Bitbns is yet another cryptocurrency trading app available. The app, which is available for both Android and iPhone, allows you to buy and sell altcoins without the involvement of a third party. The app lists over 100 cryptocurrencies, ranging from the well-known Bitcoin and Ethereum to the relatively new Shiba Inu. Furthermore, as a result of its partnership with global cryptocurrency exchange OKEx, Bitbns provides trading convenience unrivalled by any other cryptocurrency exchange.
Traders in India can buy USDT, LINK, AAVE, MATIC, and USDC with rupee via bank transfer, IMPS, and UPI by selecting Bitbns via OKEx's buy/sell tool. Through the partnership, the company also hopes to provide Indian traders with access to a fiat gateway, a variety of newer trading pairs, priority access to new coin/token launches, and high yield staking products.
Wrapping It Up
Cryptocurrency is the future, and it is expanding as the world transforms and digitises at a rapid pace. The use of cryptocurrency is expected to skyrocket as more people seek to invest digitally. With the hype surrounding cryptocurrency, there has been a surge in cryptocurrency investments such as Bitcoin, Shiba Inu, DogeCoin, and others.
We hope you found our list of the best cryptocurrency apps in India useful.
Related Blogs