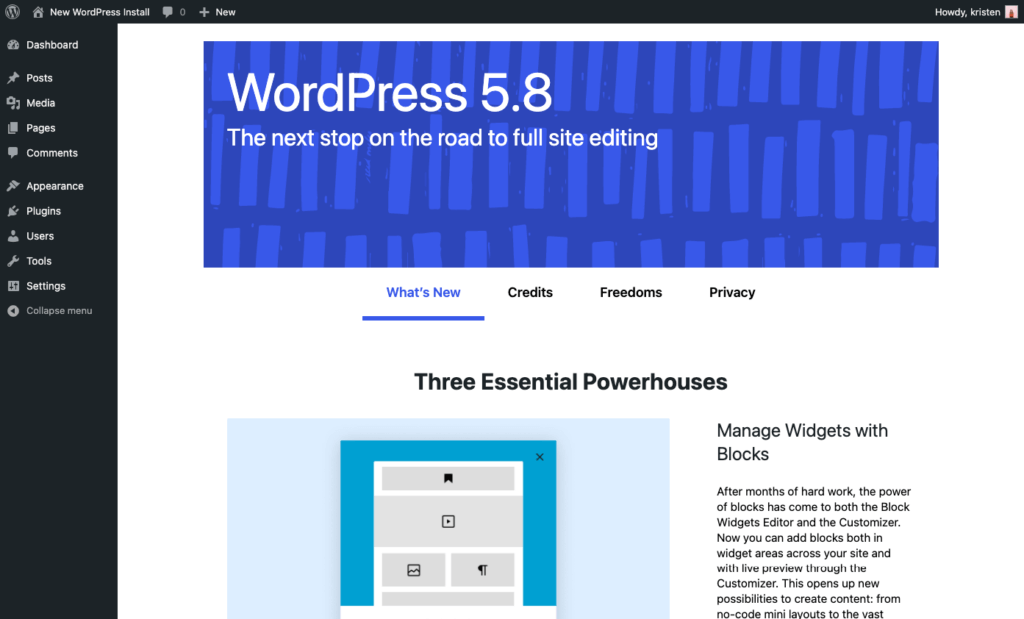 WordPress 5.8 is rapidly approaching! It's the second-largest WordPress update of the year; are you prepared?
This exciting update provides the first glimpse of the new template editor, which will be the primary tool for full site editing in the future. It also adds a slew of new exciting features, such as WebP image support, the ability to use blocks as widgets, improved widget controls, and much more.
WordPress 5.8 Release Candidate 2 was just released a few hours ago, and the final version will be available on July 20, 2021. On our test sites, we've been putting new features to the test.
In this post, we will give you a sneak peek at all of the new features added to the most recent version of WordPress. If you want to try out this version before the final release, we'll show you how at the end.
Let's take a look at WordPress 5.8!
Template Editor – First Step Towards Full Site Editing
WordPress 5.8's main feature is the new template editor. It is an introduction to WordPress's future – Full Site Editing (FSE).
If you're wondering what FSE is, it's a feature that will make designing pages and posts with the Gutenberg editor easier than ever. It gives you more control over how blocks are used in the design.
WordPress themes can still be used to provide design, but Gutenberg blocks will allow you to control how everything looks and feels. The header, footer, and sidebar are all included!
The template editor is the first step in FSE, allowing you to create and save custom templates for your website, which you can then use for any post or page.
Everything from a site logo block to an author meta block to a post date block and other page elements can be included as needed.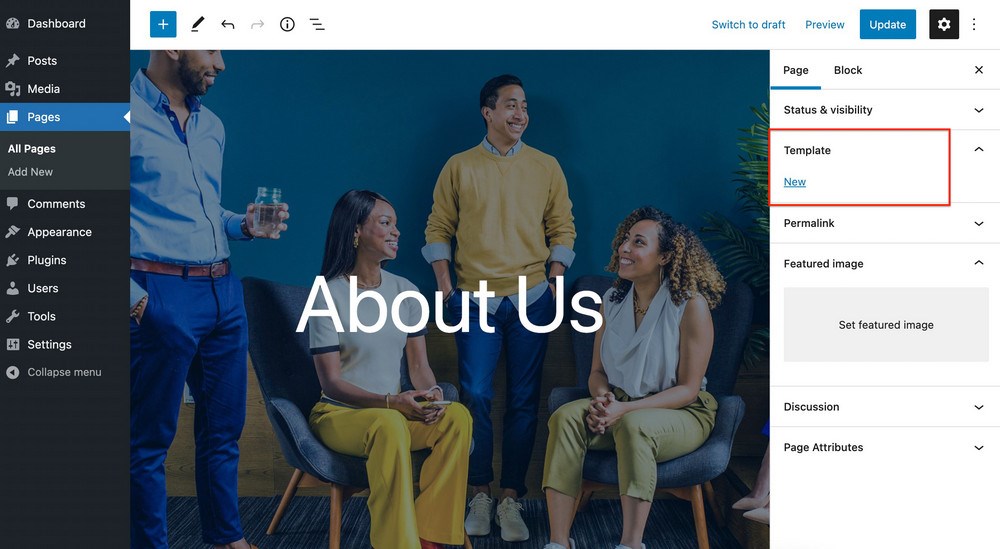 When you attempt to add a new template, an editor window will appear. It will allow you to use all Gutenberg blocks, including the new blocks listed below:
Site Icon
The tagline for the Website
Title of the Website
The Query Loop
Title of the Post
Content for the Post
Date of publication
Excerpt from a Post
Featured Image in the Post
Posting Types
Tags for Posts
Login/out
List of Pages
By default, the new template editor is disabled, but you can enable it by adding a line of code to the functions.php file.
add_theme_support( 'block templates' );
After enabling the template editor, you can edit the page or post and experiment with creating a new template.
Gutenberg Blocks As Widgets in Customizer
Have you ever considered using a Gutenberg block in a widget? WordPress 5.8 allows you to do just that!
The availability of Gutenberg blocks as widgets is another feature of Full Site Editing. This means that any Gutenberg block in the customizer can be used as a widget.
This will give you more freedom and control when designing a header or footer with widgets.
You can use the Customizer (Appearance > Customize) to add any block to any widget area in your theme.
Blocks as widgets expose the power of blocks to the sidebar or widget area. Using this new feature, you can change the colour, typography, spacing, and other elements of any widget.
You can also use the Widgets page (Appearance > Widgets) to add blocks as widgets.
This widgets screen, like posts and pages, has been redesigned to be block-based.
WordPress 5.8 Wid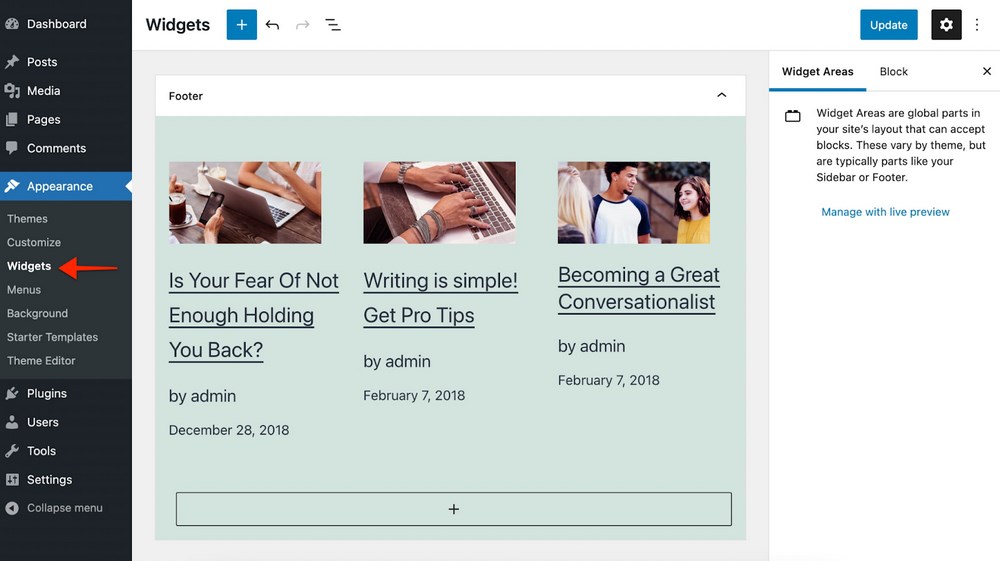 It's also fine if you want to continue using old widgets. There are two new tools available to assist you with the transition.
The new Classic Widgets plugin restores the widgets page layout to its original state. Alternatively, the Legacy Widget block allows you to continue using an older plugin within the block layout.
Native WordPress Support for WebP Images
Have you ever attempted to upload WebP images and received the following error?
W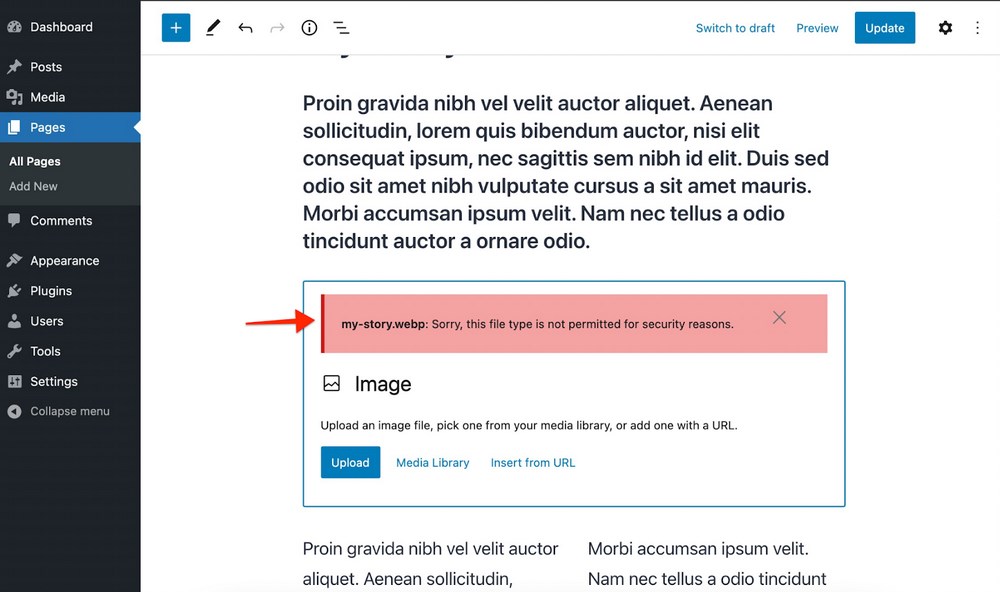 If you answered yes, there is some good news for you. WordPress 5.8 includes WebP image support, allowing you to upload and use them natively within any theme.
If you're unfamiliar with WebP images, they're a new(ish) image file format created by Google. It has several advantages over PNG, JPG, and other popular file formats.
WebP, in particular, has lossless and lossy compression that is 25% to 34% smaller than comparable PNGs or JPEGs. WebP usage has increased in recent years, and more and more websites are incorporating WebP images into their design.
Do you want to experiment with WebP images right away? Use an online converter to convert any PNG or JPEG images before uploading them to your website.
If you want to learn more about WebP images, check out this article.
N

ew Functionality in the Gutenberg Block Editor
Gutenberg blocks and the block editor now have a number of new features. Let's go over a few of the most important ones.
Nested Block Selector
The block editor now includes a permanent toolbar button for quickly selecting a parent block.
Simply clicking on this button will take you to the parent item. This is extremely useful for quickly navigating blocks while editing content.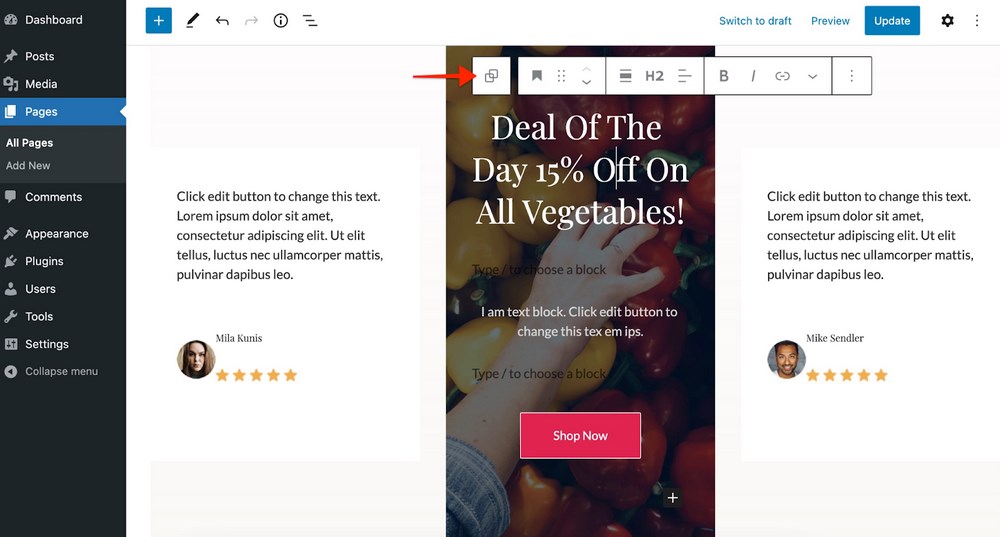 New Block: Query Loop
WordPress 5.8 introduces a new block called "Query Loop." This block enables you to "loop" or display continuous posts based on various query parameters and visual configurations.
Lists of posts or pages can be displayed based on categories, authors, specific keywords, and other criteria.
New "List View" Panel
WordPress 5.8 adds a new method for navigating complex block hierarchies. You can see the organisation and hierarchy of blocks when you enable the ListView panel, making it easier to organise everything.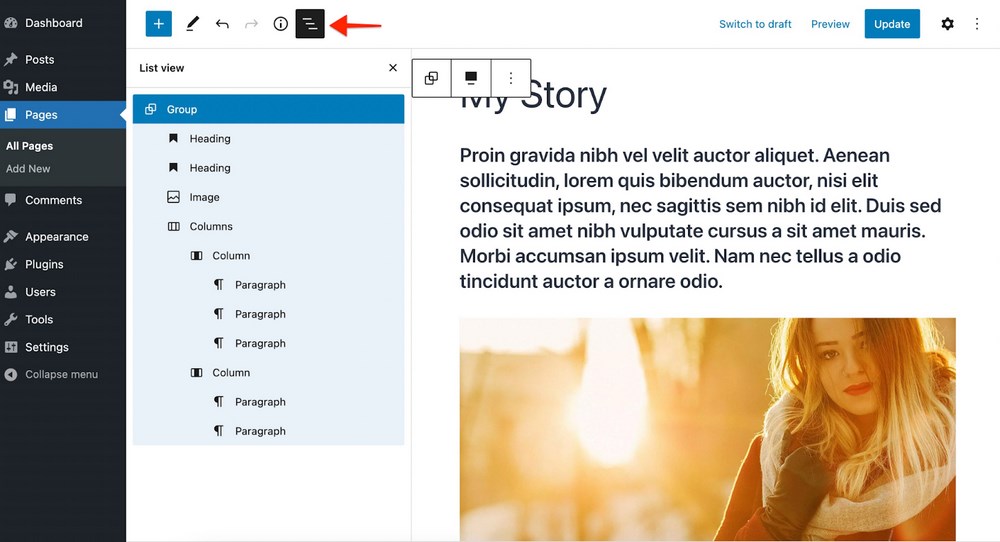 Block Pattern Suggestion in Add Block Panel
When you search for a block in the panel while designing a page, related pattern suggestions will appear. This will assist you in creating intriguing and powerful designs.
Soon, there will be an integration with the pattern directory at WordPress.org/Patterns.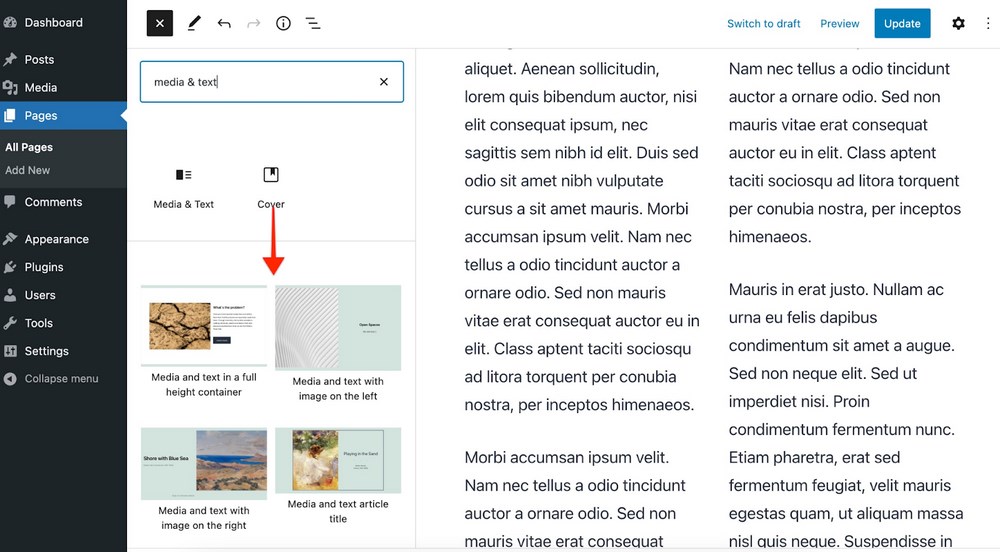 Duotone Effect for Images and Media Blocks
You can add a new eye-catching duotone filter to images, media blocks, and other third-party blocks.
It includes a few presets, and you can make your own by selecting the colours you want to use.
WordPress themes can also generate colour palettes for preset selections.
Other Changes
Here is a list of some of the other changes in WordPress 5.8:
More colour options for text, background, and links.
A new option for adjusting column padding has been added.
Table blocks now have a gradient background option.
Internet Explorer 11 support is being phased out.
New theme.json file for theme authors, which will serve as the central point for configuring existing and new editor controls.
Wrapping It Up
With a huge list of new features and improvements, WordPress 5.8 is shaping up to be one of the biggest updates for Gutenberg so far. It is sure to have a powerful impact on the way users create WordPress websites!