WordPress 5.9 introduces new features and updates that make complete site customisation even easier. This new version was released on January 25, 2022.
WordPress 5.8 was already pushing full site editing with the incorporation of the Gutenberg block editor for post and page creation. The 5.9 version, on the other hand, extends the functionality even further by offering a block-based theme editor, as well as additional features and adjustments.
This article will go through the core release's new features, updates, and problem fixes.
Block Theme Editor
The new Gutenberg-based block theme editor is one of the highlights of WordPress 5.9. In essence, this functionality might be a replacement for the old WordPress Customizer. If you go to the Appearance area of the WordPress admin dashboard, you'll notice that Editor has replaced Customizer.
The interface is comparable to WordPress 5.8's Gutenberg-based page and post editor. WordPress blocks may be used to construct or alter themes, with theme components such as the header and footer having their own.
Navigation, site title, and site logo are among the other new theme components. For example, the navigation block now includes keyboard accessibility and adaptable menu selections.
We should expect to see more WordPress block themes in the future now that the block theme editor has been officially released.
Design and UX Improvements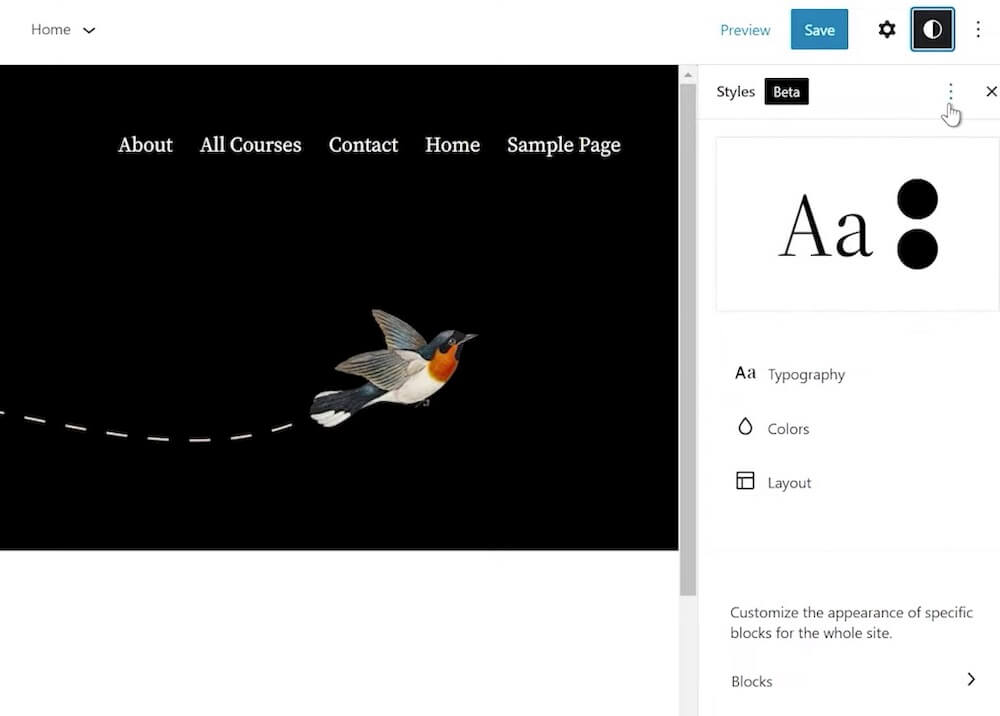 The latest WordPress version significantly enhances the appearance and user experience of the interface. The list view supports drag-and-drop, allowing you to rearrange the content by simply dragging and dropping pieces.
The list view components are now collapsible, making it easier to manage complicated information with several blocks. Furthermore, each block may have an HTML anchor added to it for rapid navigation.
There is now a focus mode for the header and footer in the theme editor. This function is accessible from the editor's top panel and displays only the section you wish to change.
Global Theme Styles
Theme.json, a file stored in the theme's top-level directory that allows you to customise the theme's default styles using minimum CSS, was added in WordPress 5.8.
The global styles interface is new in WordPress 5.9. The functionality allows you to update the global styles in the theme editor without editing the theme.json file directly.
The interface is accessed by clicking on the black and white circle in the editor's top-right corner. The panel shows on the right side of the screen and allows you to modify the font style, colour scheme, and padding for the whole site.
There is also the opportunity to define a style for certain blocks. For example, you may change the typeface and colour of the button blocks solely.
Pattern Insertion and Creation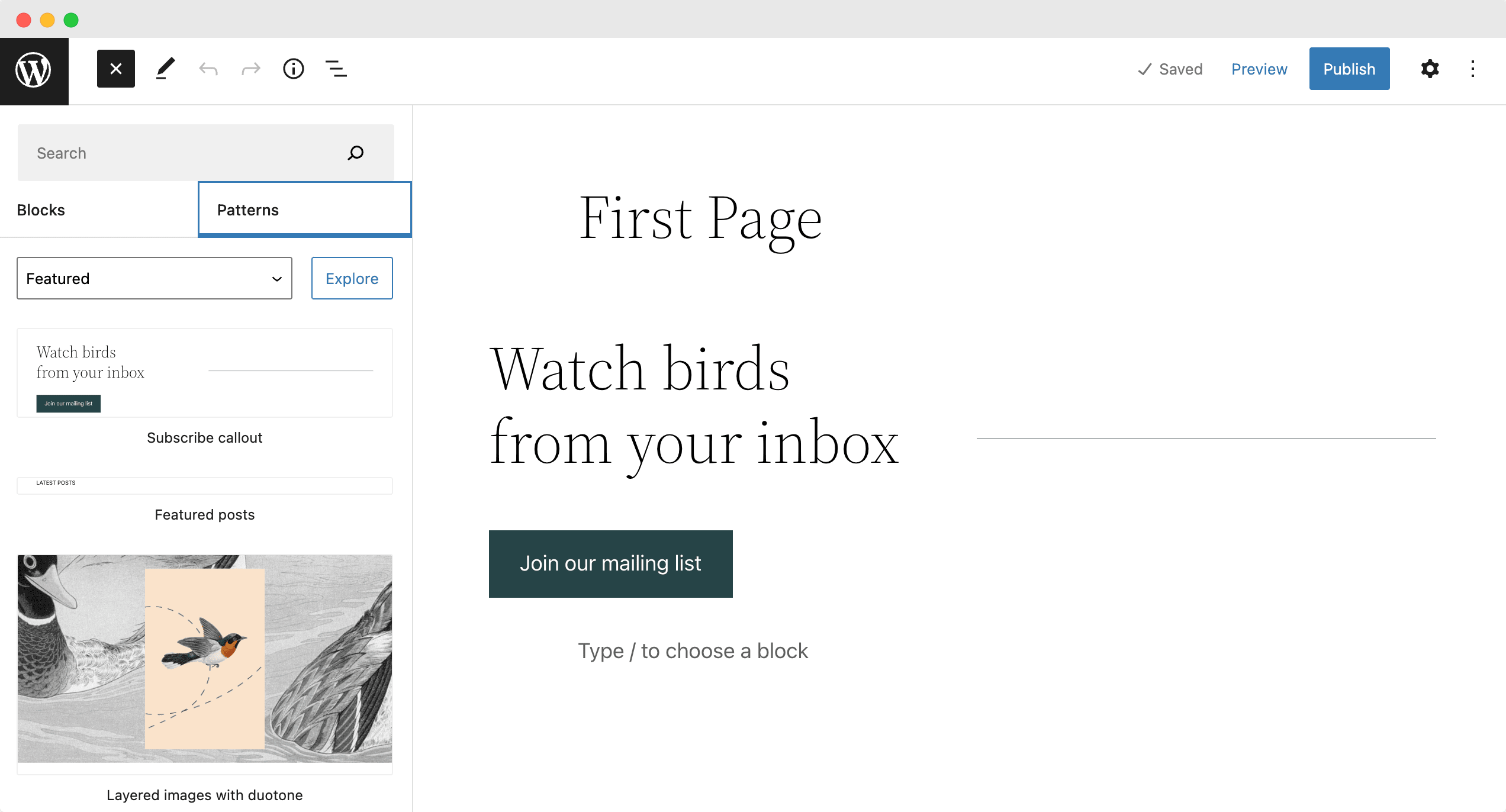 This feature allows you to quickly construct a new website part by adding a pattern – a block package. Create a section for a subscription form, for example, by inserting a pre-made template rather than building new blocks one by one.
Select the Patterns tab after clicking the + button in the top-left corner of the editor. Choose a category from the drop-down menu, or click the Explore button to explore all possible patterns.
New Design Tools
WordPress 5.9 includes several improvements to the design tools, which can be accessed via the block settings panel. Each sort of block has its own set of design tools and customisation choices. Some of the significant new additions are as follows:
Pagination – Customize the arrow styles, text alignment, and block layout.
Navigation – alternatives for adjusting the distance between navigation elements.
Buttons – choices for adjusting layout justification and choosing horizontal or vertical alignment.
Feature image – Dimension and scale choices have now been introduced.
Border – WordPress 5.8 added new border design choices like border style, colour, and border-radius attributes. The 5.9 version additionally includes support for child themes.
Duotone filter – This is now an option for featured picture and gallery blocks.
These are just a few of the new design tools included in WordPress 5.9.
New Twenty-Twenty Two Default Theme
Every year, WordPress releases a new default theme, and 2022 is no exception. The Twenty-Twenty-Two default block theme is included in the new WordPress 5.9.
This block theme was designed with complete site modification in mind. The theme developers concentrated on making the theme customisable via theme.json and the new editor, resulting in little CSS use.
Twenty-Twenty-Two includes a variety of page templates, such as 404 error pages, single post pages, and archive pages. A footer and three other styles of headers are also included in the template sections – default, dark with a tiny style, and dark with a large style.
Twenty-Twenty Two is a new block theme with a variety of patterns for headers, footers, pages, and columns. There are approximately 70 designs in all, offering limitless options for comprehensive site modification.
PHPUnit Tests
WordPress 5.9 also included an upgrade to the PHPUnit testing framework. This is due to the addition and deprecation of PHP functionality, most notably the newly released PHP 8.1.
The void return type, for example, was added in PHP 7.1. If the core contributors add this capability to PHPUnit, any tests run on PHP versions lower than 8.1 would be impacted.
Similarly, if the core contributors continue to run tests on earlier PHP versions, PHP 8.0 and PHP 8.1 testing will become progressively difficult.
The PHPUnit Polyfills library is used to solve this problem. The WordPress core test suite can now run on PHPUnit versions 5.7.21 through 9.5.10, enabling trouble-free testing against all supported PHP versions.
Added Compatibility and Support in WordPress 5.9
In addition, the new WordPress version includes various improvements for other software, computer languages, and social networking sites. Here are the three most important:
jQuery 3 – Following repeated delays, WordPress core authors want to release an upgrade for jQuery 3 compatibility alongside WordPress 5.9.
PHP 8.1 – The next WordPress version is compatible with PHP 8.1, which is scheduled to be published in November 2021. However, before running your WordPress website on PHP 8.1, make sure your themes and plugins support it.
Active embeds for Pinterest – With the creation of a dedicated block, WordPress 5.9 now allows seamless Pinterest embedding. Simply add the block to a page or post and enter the Pinterest URL.
WordPress core contributors are always trying to resolve problems that have been reported in prior versions. Some of the bugs that have been fixed are as follows:
Dark mode bug – When utilising the dark mode, WordPress 5.9 addresses the Widget screen problem. The problem caused the text to appear grey on a white backdrop, making it difficult to read.
Shaking screen on the theme page – This problem manifests itself on the Appearance -> Themes page. When you hover over a theme thumbnail, the browser screen may tremble.
How to Update to WordPress 5.9?
You use WordPress 5.9 and make use of its new features and improved security, be sure to upgrade the core software. WordPress may be updated in numerous ways:
Using hPanel – Users of Hostinger shared, and cloud hosting can upgrade the WordPress core software using hPanel. Go to WordPress -> Dashboard to locate a notification and a button that will allow you to execute the upgrade in just a few clicks.
Manually update using an FTP client – Download the most recent WordPress version and unzip the files. Overwrite the WordPress files and the core directories wp-includes and wp-admin with an FTP client. When you've finished, go to yoursite.com/wp-admin/upgrade.php/ to see if WordPress was successfully upgraded.
Use WP-CLI – This approach necessitates SSH access to your public HTML directory's root. Once in that location, run the command wp core update to begin the upgrade.
Wrapping It Up
WordPress 5.9 improves the overall site editing experience by including a block theme editor, additional editing tools, and UX enhancements. The new Twenty-Twenty-Two default theme is also a great place to start for novice WordPress users, as it has a plethora of template and pattern possibilities.
WordPress 5.9 also includes enhancements to site development and design, such as bug fixes and new compatibility tools.
Install the WordPress 5.9 beta version to try out the new features. Install the WordPress Beta Tester plugin and choose the Bleeding Edge option. Alternatively, you may download the.zip file and manually install it.
To avoid difficulties, we recommend trying the WordPress 5.9 beta on a new WordPress website or installing it under a subdomain. Send a reproducible bug report to the Alpha/Beta part of the support forums or WordPress Trac to contribute to the development process.
Latest Blogs